I love when it gets to the end of the year and I can start list-making: my favorite books of the year, the books I'm most excited about next year, my new and improved reading goals. Since December's not over yet (thank goodness, since I love December), I thought I'd get a jump on things and start with some 2017 new releases that I'm super excited about. These are all books by authors I already love or new installments in series I'm already a fan of, so it's definitely not an exhaustive list. I'll do a post later on about other anticipated releases that I'm excited about from unfamiliar authors, but for now, here's what I'm already impatiently waiting to read in 2017.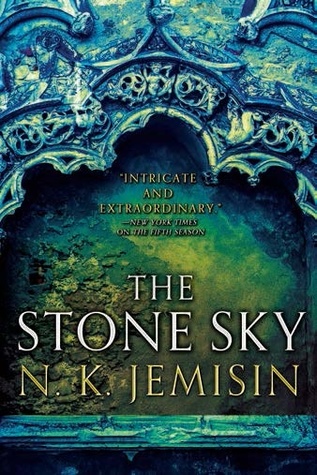 The Stone Sky by N.K. Jemisin (anticipated release August 15th) – the final book in the Broken Earth trilogy is out this summer and I absolutely cannot wait. The first two books were some of the best books I read in 2015 and 2016, and I've loved every single thing I've read by N.K. Jemisin. If you like fantasy and aren't reading this series, this is the perfect time to join. It's set in a world that experiences repeated devastating natural disasters; some characters have the ability to manipulate the earth and are persecuted and controlled for their abilities. There are also mysterious beings essentially made of stone. The heart of the story, though, is about a mother's search for her daughter amidst the chaos.
Hunger by Roxane Gay (no release date set) – reading Gay's Bad Feminist was one of my most significant bookish experiences of this year and it left me wanting to read much, much more by this author. This book was actually supposed to come out in 2016 but the release date was pushed back; while Bad Feminist was a collection of essays that hit on so many different topics, this is a memoir focusing on Gay's relationship with food and her body. I have no doubt it's going to be amazing.
Borne by Jeff Vandermeer (anticipated release September 7th) – I fell in love with the fascinating weirdness of Vandermeer's writing with his Southern Reach trilogy a few years ago, and this sounds like it will be just as wonderfully strange. Apparently, it's set in the future and is about a woman named Rachel who finds a mysterious genetically engineered creature that she names Borne; meanwhile, her city is ruled by a genetically engineered bear (?) and there is a mysterious Company doing all of this genetic engineering. I just need to read it. Like right now.
Down Among the Sticks and Bones by Seanan McGuire (anticipated release June 13th) – this is a companion novella to Every Heart a Doorway focusing on two of its many interesting characters. This series (is it a series? I hope so, because I'd love more insight into a few more of its characters) is about children who enter magical lands in Narnia-esque ways and have difficulty adjusting to the real world once they return. Some are able to eventually go back to their fantasy worlds and others aren't, but they all long for those places where they felt most like themselves. The characters in this novella are twin sisters who went to a world similar to that of Frankenstein, which also contains vampires, although the two of them loved it for very different reasons–one because she was fascinated by the science, and the other because she was fascinated by the vampires.
White Hot by Ilona Andrews (anticipated release May 30th) – I KNOW. This cover is TERRIBLE. It's a good thing I'm planning to get this on ebook, because wow. This is the second book in a duology focusing on a world where families inherit different types of magical powers, and the most powerful of these families essentially control society. Our main character has the ability to tell truth from lies and gets entangled with an extremely powerful billionaire sorcerer dude. It's more romance-focused than the Kate Daniels series, and I don't love it as much as Kate, but it's still Ilona Andrews and I'll read anything that she comes out with.
A Court of Wings and Ruin by Sarah J. Maas (anticipated release May 2nd) – this is such an enjoyable escapist series; I hesitate to call it a guilty pleasure because I try not to feel guilty about my reading choices, but that describes it pretty well. It's set in a fantasy world with fairy tale retellings intertwined with the narrative and focuses on Feyre, a formerly human huntress who is learning to control her abilities and deal with a series of threats to her world. I enjoyed the hell out of the last book, A Court of Mist and Fury, and I hope that this one will be just as good (although for some reason I feel like it won't be, but maybe that's just me).
What books are you excited for in 2017??