Something I've realized over the past few years is how much I absolutely love attending bookish events. Readings, library book sales, author speaking series–it never fails to reignite my passion for books, reading, and writing. I was able to hear Kelly Link read from her newest short story collection Get in Trouble last winter, and this year I was able to listen to both Chimamanda Ngozi Adichie and Dinaw Mengestu speak about their lives, their writing, and current social and political issues during the Babel reading series in my city. I also went to hear Alyssa Palombo, a local author, read from her novel The Violinist of Venice at a local independent bookstore, and although historical romance isn't typically my genre, I was very intrigued by the concept and added yet another book to my TBR.
Last weekend, I was able to make it to the 10th annual Buffalo Small Press Book Fair, and I really wish I had known about it the nine previous years as well. It's a very friendly community event geared toward all things bookish: it includes local small presses, authors, comics artists, and bookish crafts.
Because I physically cannot be around books without buying some of them, I picked up 3 books at the BSPBF: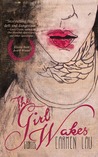 I picked up two of the books at the Leapfrog Press booth, where they had amazing prices and fascinatingly weird story concepts. I was told that I shouldn't pick up anything by author Michael Graziano if I didn't like weird books, so I immediately grabbed one of his called Death My Own Way. I was also enticed to pick up leo@fergusrules.com by Arne Tangherlini because it was described to me as "Alice in Wonderland on the internet." I mean, obviously I need to read that right away. And I absolutely cannot wait to start reading The Girl Wakes by Carmen Lau, which I found at the Alternating Current Press booth–it's a fantasy short story collection featuring female-centric fairy tales. I also picked up the gorgeous bag in the picture from artist Claudia E. Berger.
Being at the small press book fair made me realize that I haven't been paying enough attention to the importance of reading books published by local authors and independent presses. I feel like it's difficult to break out of the habit of reading highly promoted new releases and books already famous, but I'd like to try. So, one of my bookish goals for the rest of the year, and carrying over into next year, will be to track down and read more lesser-known small press books.
I didn't realize until recently that I'd completely forgotten to blog about another recent bookish event–I was able to hear N.K. Jemisin, one of my absolute favorite authors, read her newest soon-to-be-released short story! I don't want to give away too much (she told us that it would be published in the next few months by Tor.com) but it's a contemporary fantasy set in New York, and the main character is a young homeless man coming to awareness of the ancient threat facing his city.
I also was able to meet N.K. Jemisin and asked her to sign my copy of The Fifth Season, during which I completely geeked out and had no idea what to say to her. I was totally intimidated by her awesomeness.
What bookish events have you all attended lately? I'd love to hear about them!