I'm a little early with this December reading recap, but I'll be out of town for New Years' and am trying to get a jump on my blog posting before I leave. In December, I managed to read three of the four books from my Tome Topple Readathon TBR list (which I totally failed at reading in November) and also read a bunch of very popular books, with varied results. There are technically three days left in December, but it doesn't look like I'll be able to finish another book before then–I'm right at the beginning of The Bone Clocks by David Mitchell, which is a very long book, and I'm listening to Lab Girl by Hope Jahren very, very slowly. I'm also re-reading Sarah J. Maas's A Court of Mist and Fury, which is a very wintery read.
Total books read in December: 6
#readmyowndamnbooks: 5
Audiobooks: 0 (I wasn't in an audiobook mood! Although I did start one audiobook, Lab Girl by Hope Jahren)
Book Riot Read Harder Challenge tasks completed: 1
✓ 5. Read a middle-grade novel

The Girl Who Circumnavigated Fairyland in a Ship of Her Own Making by Catherynne M. Valente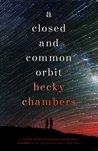 A Closed and Common Orbit by Becky Chambers (4.25 stars) – this was a wonderful story about two people discovering who they are: an AI who is given her own body for the first time, and a girl born in a world that only wants to use her as a slave. Like Becky Chambers' previous book, The Long Way to a Small, Angry Planet, the themes here are universal and well-portrayed, and although I did think it was really good, it didn't quite live up to its predecessor. I'm absolutely planning to continue with the series; according to Goodreads, Chambers has a third book set in this universe coming out in 2017.
Crooked Kingdom by Leigh Bardugo (4.25 stars) – So, I loved Six of Crows, and this book was one of the books I was most excited about reading this year. Maybe that was why I was underwhelmed with the first half of the book; things were seeming forced (especially dialogue and character interactions, which was really disappointing) and things just didn't feel quite right. But! It got wayyyy better in the second half when the action really ramped up and things started feeling back to the awesomeness that I remember from the first book. The ending was very, very satisfying in pretty much every way. It's sad that this is only a duology, but honestly things ended on such a perfect note that I'm glad there were only two books.
Gemina by Jay Kristoff and Amie Kaufman (4 stars) – The sequel to Illuminae, the ridiculously exciting unconventionally formatted science fiction book that I devoured during Dewey's. I've been so pleasantly surprised by this series. Gemina, like Illuminae, was very suspenseful and a quick read, but I actually really preferred the two main characters of this book to the main characters of Illuminae–especially Nik, our new male main character, who is a good-hearted guy who happens to be part of an organized crime family. On a space station.
The Girl Who Circumnavigated Fairyland in a Ship of Her Own Making by Catherynne M. Valente (4 stars) – this was a really lovely middle-grade book about a girl named September who travels to Fairyland and discovers that things aren't quite what she had expected. She befriends a wyvern and goes on a quest, which gets more complicated after the evil ruler of Fairyland gets involved. I was really surprised at how much I enjoyed this; it's very well-written and has a good amount of originality. I wish I had younger siblings or cousins that I could pass this along to; I'd definitely recommend it if you're looking for a middle-grade read for anyone.
Mistborn: The Final Empire by Brandon Sanderson (3 stars) – I was not a big fan of this book. I know that a lot of people really love it, and it wasn't that I thought it was terrible, but it was just…not great. There were so many way-too-convenient plot twists and tropes galore; I can be OK with either of these things in fantasy if the writing is really good, but unfortunately, it really wasn't. I'm not saying this book was bad; the premise was interesting and there were some fun moments, but overall it wasn't unique enough for me.
A Darker Shade of Magic by V.E. Schwab (3 stars) – This book was okay…I'd say it was a pretty solid 3-star read, but I'm not sure why it gets so much hype. I did like the concept of multiple Londons; I found the power-hungry White London especially interesting, and I liked Prince Rhy, who seemed by far like the most interesting character. Unfortunately, neither of these really got enough page time for me, and I found the two main characters' actions to be really frustrating for the majority of the novel. I did like Kell, the main character, but for someone who's supposed to be a super-powerful magician, he sure forgot to actually use his magic pretty often. Lila really grew on me by the end of the book, but it definitely took awhile. I probably won't be continuing with this series.