That's a wrap on this round of Dewey's! I had so much fun participating in the readathon after a pretty stressful week, and I felt myself relaxing more and more throughout the day, which was honestly the best part. Sometimes you just need to take a chill day and be bookish!
I started out the readathon at a decent hour–it starts at 8:00 a.m. my time but I never wake up right at the start time, as I always catch up a bit on sleeping during the weekends. I did wake up around 9:00, though, and started reading almost immediately, which was pretty good for me. I started off the readathon with Obsidio, the third and final book in the Illuminae Files trilogy, which I actually pre-ordered and received in March but have been waiting for the readathon to actually pick up. I knew that it would take me a decent amount of time to finish, but since it was what I was most looking forward to, that's what I wanted to use to kick off the readathon.
I actually read all of Obsidio with only one short break to post on Litsy and eat a delicious salad for lunch, which is very unusual for me! It was definitely an enjoyable read, but I didn't like it as much as the first two books in the trilogy as it didn't get nearly as in-depth with any of the characters. After Obsidio, I took a break to go to the gym and shower, and then started in on Penance by Kanae Minato after reading the first page of all 3 of the shortest books on my TBR and deciding that one appealed to me the most. I took a break partway through Penance to order dinner (I got takeout! Turkey burger and sweet potato fries, because that was just what I was in the mood for and didn't feel like cooking during a readathon) and watched an episode of Life Sentence. After that, I finished up Penance fairly quickly. It's a short book (only 225 pages) and divided into 5 parts, one from each perspective of the women impacted by the murder of a child.
After I finished Penance, I took a long social media break to catch up with Instagram and Litsy, and found that I was not really in the mood to try to start and finish another book during the readathon, even though I did have two shorter books on my TBR that I could have probably finished if I'd really tried. I just didn't feel like I would have been able to focus on the book enough to really get everything out of it that I normally could, so instead I went with a humorous YA fantasy, In Other Lands by Sarah Rees Brennan, which fit my mood and level of alertness much better. Because I was getting tired, I only got through about 50 pages (with frequent breaks) before I was ready to fall asleep around 2:00 a.m. Throughout the day, I also listened to just a bit of The Female Persuasion by Meg Wolitzer; I just wasn't really in an audio mood. Overall, it was a great, relaxing, and productive readathon!
Dewey's Closing Survey!
1. Which hour was most daunting for you?
There was an hour in the middle of the afternoon when I got really off-track because I was trying to find tickets to see Avengers: Infinity War on short notice with a large group of people. All of the nearby theaters were full and so much texting was happening and it took me awhile, but I did end up getting tickets and getting back to reading.
2. Tell us ALLLLL the books you read!
I finished 2 books, Obsidio by Jay Kristoff and Amie Kaufman (615 pages) and Penance by Kanae Minato (225 pages), and read from 2 others, The Female Persuasion by Meg Wolitzer (24 pages) and In Other Lands by Sarah Rees Brennan (50 pages). In total, I read 914 pages!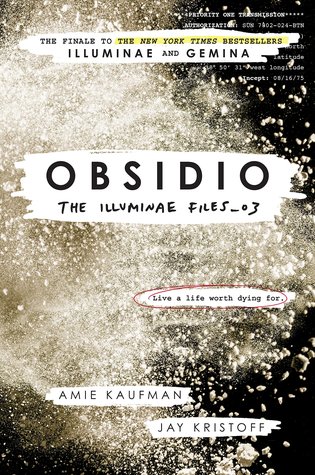 3. Which books would you recommend to other Read-a-thoners?
These would all make good readathon reads! Especially Penance, as it's very short and fast-paced.
4. What's a really rad thing we could do during the next Read-a-thon that would make you smile?
This year the mini-challenges were all given at once, as opposed to other years when they come out one hour at a time and last for only a few hours. I think I preferred the hourly mini-challenges.
5. How likely are you to participate in the Read-a-thon again? Would you be interested in volunteering to help organize and prep?
Very likely! I will definitely be participating in the next round of Dewey's on October 20th, and I like the idea of getting more involved by hosting a mini-challenge or donating a prize next time!
If you participated, how was your readathon??