The Bout of Books read-a-thon is organized by Amanda Shofner and Kelly Rubidoux Apple. It is a week long read-a-thon that begins 12:01am Monday, May 13th and runs through Sunday, May 19th in whatever time zone you are in. Bout of Books is low-pressure. There are challenges, Twitter chats, and a grand prize, but all of these are completely optional. For all Bout of Books 25 information and updates, be sure to visit the Bout of Books blog. – From the Bout of Books team
I'm reading slumping again, so you know what that means–it's time for a readathon!
There's been a lot going on in my non-bookish life, and sometimes stress will very much start to negatively impact my reading life. Conversely, I know that reading is one of the things that helps decrease my stress levels, so sometimes when I'm stressed the best thing to do is actually to just double down and force myself to read more than I normally would. (This happens with writing, too. More on that later.)
I even set a TBR for May hoping that this would help me focus, but it's not, partially because two of the three books on that TBR I'm kinda hating and considering DNF-ing. So I think that for now I really need to switch gears for a bit and use Bout of Books, a readathon I'm a huge fan of and have participated in many times in the past, as a way to motivate me to actually make some good things happen reading-wise. I'll be putting the books I'm not liking on hold and instead picking up some highly anticipated 2019 releases, ARCs, and short stories. Let's do this!
So, here's what I'm going to focus on reading for Bout of Books: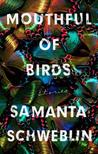 Ebooks: Aurora Rising by Amie Kaufman and Jay Kristoff (which I'm currently reading and really loving, since it's a little Six of Crows-in-space-esque), Kingdom of Exiles by Maxym M. Maritneau (eARC, thank you so much to Avon Books Casa, which comes out in June).
Physical books: Mouthful of Birds by Samanta Schweblin (short story collection by an author whose previous book I loved, also a 2019 new release), and possibly either a physical ARC (The Fall by Tracy Townsend or The Binding by Bridget Collins) or The Pisces by Melissa Broder.
Audiobooks: TBD, since I can't seem to focus on audiobooks lately, but I'm going to ask for some recs in an instagram story.
Are any of you participating in Bout of Books? What are your thoughts on getting through a reading slump? Let me know!