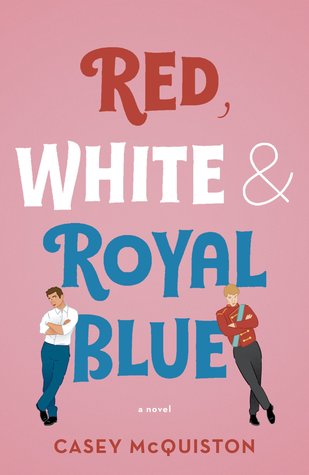 Red, White, & Royal Blue by Casey McQuiston – 4 stars
I'm calling it right now–Red, White, & Royal Blue is going to be the "it" contemporary romance of the summer. It's going to be 2019's The Kiss Quotient, or The Hating Game: a romance that pulls in non-romance readers and ends up a crossover hit.
Why? Because it's one of the most delightful books I've ever read. In addition to a wonderfully sweet enemies-to-lovers romance, it's got a ton of humor, great friendships, and a political component that's perfect for readers like me who are a fan of The West Wing and/or Veep.
Red, White, & Royal Blue follows Alex, the snarky and ambitious First Son of the United States; his aspiring journalist sister June; his best friend Nora, who's his ex-girlfriend and also a genius, in an alternate 2019 where Alex's mother, a Texas Democrat, has succeeded President Obama and is currently working on her 2020 reelection campaign. (I know. Part of the fun of this book is living, just for a little while, in that world.) When Alex accidentally embarrasses himself at the Royal Wedding by getting into an altercation with Henry, the Prince of England that Alex has always held a grudge against, the two are forced to pretend a friendship in front of the media to salvage international relations. And thus begins an adorable hate-to-friendship-to-love romance as both boys learn about themselves and each other through finding that their worlds aren't so different after all.
Red, White, & Royal Blue is a book that, to put it simply, will make you happy. There are complications along the road, of course, but it's sweet and genuine even amidst the snarky humor. There were a few places where the plot felt meandering to me, but I was completely gripped by the story and relationship throughout, and Alex and Henry are a couple you can't help but root for. I think in a lot of ways this is a book that we need right now, and even if you're not traditionally a romance reader, you're still going to love it.
Thank you so much to the publisher and NetGalley for providing me with an eARC of Red, White, and Royal Blue.