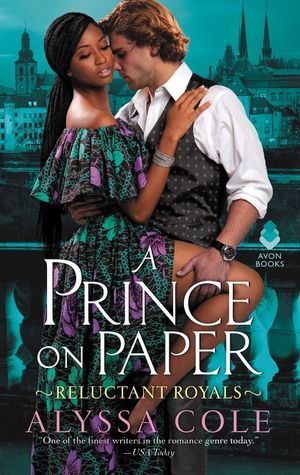 Book Review: A Prince on Paper by Alyssa Cole – 4 stars
This was, hands down, my favorite book in the Reluctant Royals series so far. The first two books in the series (A Princess in Theory and A Duke by Default) were definitely cute, smart, well-written books with awesome female protagonists, but I really didn't love the actual central romances in either one, which isn't really what you want in a romance novel. A Prince on Paper had all of the awesomeness from the first two books in the series–extremely supportive female friendships, political drama and intrigue, imaginary countries, etc–with the addition of a central romance that had, in my opinion, much more chemistry than the previous two books combined.
Our heroine, Nya, is dealing with the aftermath of emotional abuse by her father, but she's also on a journey to figure out her own brand of self-confidence and path to happiness. She's always been intrigued by Johan, the bad-boy tabloid prince of what is basically Luxembourg but isn't, and the two of them begin to grow closer at their best friends' wedding, which leads to a fake engagement to help with various political things. It's cute, it's sexy, it's a super fun read about two people struggling with their own issues and coming together to support each other. Highly recommend!
I received an eARC of A Prince on Paper via NetGalley.