Here they are, after much debating and an awesome year of reading…the ten best books I read in 2016! To be clear, these weren't all published in 2016, although a few of them were, and they aren't necessarily ranked in order of how much I loved them. My favorites of 2016 include an essay collection, two short story collections, a historical fiction novel, a retelling of a classic novel, the next book in one of my favorite fantasy series, a beautiful science fiction novel, the first book in a sensational quartet, a genre-bending story with dual narratives, and a collection of poetry. I read a LOT of books this year, and it was hard to choose just ten to represent all of 2016, but these books all touched me in some way, and I'd highly recommend them to everyone.
The Obelisk Gate by N.K. Jemisin (5 stars) – this is one of the rare cases where the second book in a series is just as amazing and mind-blowing as the first. N.K. Jemisin always impresses me, but the world she's created in the Broken Earth trilogy is so fully realized and its characters so engaging that this has become my favorite fantasy series of all time, and it's not even over yet.
Bad Feminist by Roxane Gay (5 stars) – this essay collection was so good that I had to buy my own copy, since my first reading was from a library book. Roxane Gay discusses feminism, racism, pop culture, and her life in a way that's complex yet very accessible. It's a book that I can't wait to start lending out and will need to re-read myself at some point in the near future. I'm anxiously awaiting her memoir about her relationship with food, Hunger, which comes out in 2017.
The Girl Wakes by Carmen Lau (5 stars) – I loved every page of this book. It's a very short collection of microfiction focused on dark fairytale retellings with feminist themes, and it's amazing. I found it at a small press book fair last spring, and I hate the fact that if I hadn't noticed its enticing cover on a table, I might never have found it. Reading this book really highlighted the importance of reading small press and lesser-known books, because there are incredible things to be found. The story that lingers the most in my mind is about a girl in a relationship with a vampire, but it's not a romantic, Twilight-esque story; the vampire barely has the strength to stand, and the girl continuously murders people in order to bring him food. The shocking things that she does and the way her life descends into darkness mirrors the trajectory of an abusive relationship, and it's shocking, heartbreaking, and extremely memorable, despite lasting only a few pages.
The Passion by Jeanette Winterson (5 stars) – this was one of the first books I read in 2016, but it's endured as one of the very best. This was also my introduction to Jeanette Winterson's writing and made me want to read everything she's ever written. It's beautifully crafted historical fiction that follows a young man who joins Napoleon's army and a bisexual Venetian woman, both becoming entrenched in different types of passion that may or may not consume their lives. It's about the nature of love and obsession, and it's heartbreaking yet beautiful. And the prose is just gorgeous.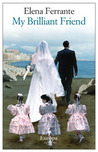 The Long Way to a Small, Angry Planet by Becky Chambers (5 stars) – this book hits almost every note that I look for in science fiction: the writing is wonderful, the focus is on character-building and the interactions between different types of beings in a complex universe, Chambers hits upon universal themes yet approaches them in a unique way, and the world-building is detailed and well-thought-out. I've found a new favorite author in Becky Chambers, and I'm currently reading the companion novel to this one, A Closed and Common Orbit, which is also wonderful.
My Brilliant Friend by Elena Ferrante (5 stars) – I was so skeptical about Ferrante's work, but I understood the hype almost immediately after I picked this up. The storytelling is beautiful and artful, and the focus in on two fully realized characters and their fraught, complicated relationship. It's not at all my typical type of book, but it didn't matter, because this book was so completely absorbing and addicting.
Wide Sargasso Sea by Jean Rhys (5 stars) – this retelling of Jane Eyre from the perspective of Mr. Rochester's wife made me completely rethink the entire story and its narrative. The prose is dense and lush and you feel like you're falling into a trance every time you pick up the book. It's bold and profoundly disturbing, intensely feminist, and it completely blew me away. Read it. Just read it.
Mr. Splitfoot by Samantha Hunt (4.5 stars) – this 2016 new release is about cults and ghosts and family and love, and it's told in this wonderful dual narrative that builds more and more tension throughout the book, ultimately culminating in a can't-put-it-down finale.
Gutshot by Amelia Gray (4.5 stars) – This short story collection was completely, perfectly weird. A lot of the stories are microfiction, which I am a huge fan of because it depends on the author being able to cram a ton of meaning and emotion into only a few pages. I was not expecting to be so impressed with this collection when I picked it up, and now I'm planning on reading much more from Amelia Gray in the future (I've already picked up a copy of her novel Threats). The most striking stories in this collection included one about a giant snake that appears and physically divides a town in two, which highlights its already-present divides, and one about a woman trapped inside a house's ventilation system.
Milk and Honey by Rupi Kaur (4.5 stars) – This is my preferred style of poetry to read – short poems in free verse with huge emotional impact. The middle two sections of this book absolutely blew me away. I read each poem at least 2-3 times because it's impossible not to savor her words. This is the type of book I'd absolutely re-read, and you can't help but feel deeply when you read Kaur's words.
So, there they are! I'd love to hear about your favorite books of 2016–let me know in the comments what yours were and if any of them overlap with mine!