It's Monday! What Are You Reading? is a place to meet up and share what you have been, are and about to be reading over the week. This meme started with J Kaye's Blog  and then was taken up by Sheila from Book Journey. Sheila then passed it on to Kathryn at the Book Date. 
To summarize: my reading week rocked!
My reading this week made me so happy–I read two absolutely fantastic books this week! I am now going to start recommending them all over the place.
Books I finished this week: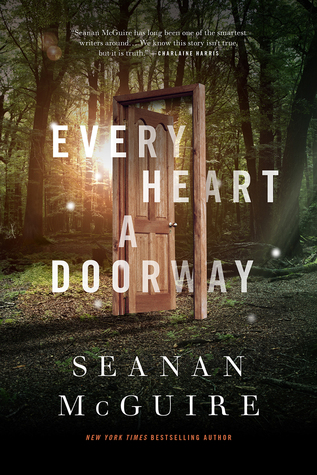 Wide Sargasso Sea by Jean Rhys: the language of this book is lyrical, and not a single word is wasted. I kept rereading sentences because of how beautiful the writing was, and it took me much longer to read this than I thought it would because I wanted to savor it. It's a feminist reinterpretation of the "madwoman in the attic" aspect of Jane Eyre, and it discusses racism and sexism, both insidious and overt, through the story of Antoinette Cosway, daughter of Jamaican slave owners, who is later sold into marriage with a calculating Englishman. The story is incredibly sad and disturbing, but it feels like a very necessary discussion of the rarely explored aspects of classic literature.
Every Heart a Doorway by Seanan McGuire: I become very easily hooked by any type of exploration of the fantasy/fairy tale genre, and this book was exactly what I wanted to read. The children in this book have all been involved in portal fantasy scenarios (where they have left the real world through magical doorways and emerged into their own fantasylands) but then, for various reasons, have returned (typically, they've been forced to return) to reality. I absolutely loved the hints at the different worlds the children went to, and I found the two main characters, Nancy and Kade, to be both intriguing and relatable. I really wish we'd gotten flashbacks to their times in their respective fantastical worlds, though. The hints were not enough! To be honest, I'd have read a much longer book on all of this and loved it, but the novella length did work well as it is.
But I still wish it was longer.
Reading now:
I bought the ebook of the second installment in Seanan McGuire's Indexing series, which is about secret government agents dealing with out-of-control and deadly fairy tales snaring unsuspecting civilians. I was so pleasantly surprised by the first book (which is just called Indexing, and I highly recommend it) and I like this one so far as well, although it isn't quite as surprising since a lot of the fun of the worldbuilding was already accomplished previously.
Sadly, I DNF'd Jackaby, the audiobook I was listening to for the past few weeks (yet another abandoned audiobook for me, oh well). Then today I started listening to Yes, Chef, which is a memoir by celebrity chef Marcus Samuelsson. So far I love it.
And still at the beginning of Mr. Splitfoot!
Looking forward to:
Dewey's 24-Hour Readathon on Saturday! This week I'll be posting about my TBR stack and Readathon plans. I can't wait to hear about everyone else's Readathoning as well.
What are you all reading this week?