I forgot to post a TBR or any updates, but this weekend I participated in the lovely 24 in 48 readathon; for more information, check out their site here.
Essentially, 24 in 48 is a fun, low-pressure readathon that I wasn't sure I'd be able to participate in this round, seeing as how I just finished Bout of Books a few weeks ago. I just wasn't sure that I'd be in the mood to readathon again so quickly! But it turned out that I was; I didn't read an insane amount, or anything near the 24-hour goal (I never do; for me, a readathon is more just to read more than I normally would) but I picked up some lovely books and had a nice, partially bookish weekend in addition to seeing friends, working out, seeing The Shape of Water (I'm trying to see most of the Oscar-nominated movies), and making delicious enchiladas.
I kicked off the readathon with a YA novel, which is my favorite way to kick off a readathon. I had recently ordered Eliza and Her Monsters by Francesca Zappia from BookOutlet, and it literally arrived the day before the readathon. Which was good, since it ended up being the perfect book for my mood. It's a decent length but also has a lot of chat conversations and illustrations to break up the text, which makes it very readathon-friendly, and it's a book you can quickly get absorbed in. I had also (luckily) gotten in my library hold just a few days before 24 in 48 for What Happened by Hillary Rodham Clinton after months on the wait list; I actually wasn't anticipated doing a lot of audio listening during the readathon, but I got extremely absorbed in Clinton's book and was able to actually do some cleaning and cooking with my hands free, so there was that.
I found myself in need of a shorter book when I felt my motivation lagging, so I picked up another new purchase, The Lost Child of Lychford by Paul Cornell. This is the second book in a novella series set in a small English town on the border between worlds and featuring three unconventional modern witches; I liked it just as much as the first novella. And I also was able to start reading (but definitely not get anywhere near finishing, since it's over 500 pages long) The Tiger's Daughter by K. Arsenault Rivera, the first book in a new fantasy series.
Here are my stats:
Finished: 1 novel, 1 novella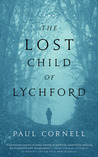 Read from, but didn't finish:
Total number of pages read: 573 pages
Total audiobook time: 4.75 hours