And….my second #24in48 is done!
Honestly, this readathon was awesome. I enjoyed literally every book I read during the challenge, and I'd recommend them all. I went into this weekend with two goals, both of which I accomplished: to read for at least 12 hours, and to read at least 3 of the books on my TBR. I had so much fun on Bookstagram and Twitter seeing everyone's reading progress and getting new TBR ideas; the social aspects of these readathons can really be the best part. Except that the books were also fantastic.
Here are my stats:
Books finished: 6
2 graphic novels
1 novella
1 novelette (which to me seemed like a short story, but it's referred to as a novelette, so I'll go with that)
1 book of poetry
1 YA novel
Books read, but not finished: 2
Total time spent reading: almost 13 hours
I finished these: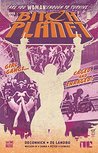 Favorite book of the readathon: Milk and Honey by Rupi Kaur. This was so close to being a five-star read for me, but just missed the mark. I love this style of poetry – Kaur writes short poems in free verse that have a huge amount of emotional impact. I was close to crying throughout this poetry collection, and I reread each poem about two or three times to get the full effect.
Biggest surprise of the readathon: Second Star by Alyssa B. Sheinmel. I was nervous about this one since I have such a bad track record with YA (I'm picky! And usually I don't like realistic/contemporary YA!) but it was absolutely what I was in the mood for, and I felt it was really well done. YA retellings of classic stories can be really good or really terrible, and I liked how this one was handled; it retained certain aspects of the Peter Pan story while still remaining its own thing.
(Longer reviews of both of these, and all my other #24in48 reads, to come in my July wrap-up post.)
And I'm still reading:

My audiobook for the readathon, The Jane Austen Book Club by Karen Joy Fowler, was a very last-minute addition that worked out better than I thought it would. I initially mean to start the audiobook of The Argonauts by Maggie Nelson during the challenge, but I had no idea that it's written in this stream of consciousness style and I, having a hard time with audiobooks in general, was completely lost within the first few minutes. I absolutely will be returning to this book, but now I know that it will need to be read in physical form instead. Meanwhile, The Jane Austen Book Club is pretty good, if not amazing, and I'd like to watch the movie after I finish it (and possibly count this towards the Read Harder challenge).
I also started Confessions by Kanae Minato, which so far is AWESOME, and I wish I'd started it earlier in the Readathon–I feel like this would have been great to read in one sitting, but I started it way towards the end and was tired.
Now that the readathon is over, I'm getting excited about my August TBR and Bout of Books. How did everyone do with #24in48, if you were participating? Let me know and feel free to link to your wrap-up!