Extremely belated with my May monthly wrap-up, since June has been quite a busy month so far. I was at BEA/BookCon at the beginning of the month (recap/discussion blog is forthcoming), on a road trip with friends for a long weekend the second week, and have been busy with work ever since. Consequently, both my reading and blogging have suffered a bit, but now I'm finally getting myself back on track.
May was a weird reading month–I'd hoped to be a lot more productive than I was, but I still enjoyed quite a few of these books and managed to finish several Book of the Month selections. No five-star reads, but I was pleasantly surprised by a book with very negative reviews and also found a new great YA series to follow. Reviews below!
Total books read: 6
Audiobooks: 0
#Readmyowndamnbooks: 4
ebooks: 2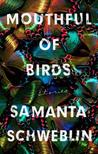 Mouthful of Birds by Samanta Schweblin (4 stars) -Although I fell in love with Samanta Schweblin's deeply weird novel Fever Dream, unfortunately this short story collection, Mouthful of Birds, didn't quite measure up, although it was a solid magical realism collection overall. Favorites included "Butterflies," an extremely haunting yet brief story; the title story, "Mouthful of Birds;" and "Underground." While some of the stories were disturbing and creative, some themes and topics became repetitive and I wasn't overall blown away the way I like to be by short stories.
Lucky You by Erika Carter (4 stars) – This was one of my first Book of the Month picks, and it's taken me over two years to actually pick up due to me being a chronic procrastinator. I've held onto it despite the fact that it has truly terrible ratings on both Goodreads and Litsy, since I sometimes have unpopular bookish opinions and I wanted to give it a fair try. I'm very glad I did, since I ended up really enjoying this book. Lucky You follows three very unlikable narrators, who are friends and/or frenemies and after becoming unmoored in their lives for various reasons all move into a remote house owned by one of their boyfriend's parents and enter into an experiment to live off the grid. We follow the three women forming and breaking their self-destructive patterns, navigating early twenty-something lives selfishly and with abandon, in tight, well-written prose and a concise account that shifts between their perspectives. If, like me, you really enjoy flawed main characters who are flawed in interesting ways, you'll also like this book. Recommend.
Aurora Rising by Amie Kaufman and Jay Kristoff (4 stars) – Unexpectedly fun and well-written YA science fiction book featuring a band of misfits, that reminded me slightly of Six of Crows but in space. I picked up this one randomly after reading a recommendation on Litsy and was not at all sorry. The trope of a bunch of extremely different people teaming up has always been one of my favorites (Six of Crows, The Long Way to a Small, Angry Planet, Lord of the Rings, etc, etc) and it worked really well in the context of this new first-in-series book by the co-authors of the Illuminae Files trilogy, which I also very much enjoyed. Lots of humor, lots of action, and many lovable characters. Excited for the next book to come out and glad to have found a new YA series I can get on board with.
Can't Escape Love by Alyssa Cole (3.5 stars) – A very cute novella revolving around Reggie, the twin sister of Portia, who's the heroine of the series' second book A Duke by Default.  My main complaint is that I wish this had been much longer; it seemed like the characters really deserved a full-length book rather than a (very short!) novella. The end seemed abrupt, especially because my ebook copy ended at 76% (the last section was actually the first few chapters of the third book in the Reluctant Royals series, A Prince on Paper, which I've already red & loved). Reggie is a FANTASTIC main character and honestly a great role model; she's extremely smart, organized, and driven, but you never get the sense that she hasn't earned every bit of her success with hard work. She runs a wonderful-sounding website called Girls With Glasses that focuses on basically everything a somewhat nerdy woman could possibly be interested in, which I wish existed in real life, and which she's turned into a social media phenomenon. She's also in a wheelchair due to a childhood illness, and the book deals with her disability in a very realistic way, highlighting how one of her issues has been how past romantic partners have treated her disability. I didn't feel like we got quite as much insight into the backstory of Gus, Reggie's love interest, but I did like how the plot of the book revolved around them working together to create an escape room. You can absolutely pick this one up without having read the rest of the series, and I think it's honestly a great place to start if you've been hearing about Alyssa Cole's books and want to give them a try.
The Bride Test by Helen Hoang (3.5 stars) – I love Helen Hoang's writing style, and will continue to immediately read her books as they are released. I didn't enjoy this one quite as much as her first book The Kiss Quotient, which remains one of my favorite contemporary romance reads, but it was still a very enjoyable, fun read.
Severance by Ling Ma (3 stars) – This book was quite a disappointment for me, and in that fact as well as the apocalyptic/plague setting it reminded me of the way I felt reading Find Me by Laura Van den Berg. The difference with Severance was that I was really expecting to love this book; I put it on my top 10 TBR for the year and had a really good feeling about it since it was pitched as a milennial post-apocalyptic novel and, well, I'm a milennial who enjoys post-apocalyptic books. Severance really unfortunately follows a protagonist living through an outbreak of a disease that forces its victims to repeat their routine actions over and over again before they eventually succumb, and who throughout the entire book never develops even a semblance of a personality. Seriously, at the end of the book I still felt like I didn't know her at all and couldn't name a single trait associated with her, because her actions, relationships, and career all seemed completely random and only designed to bring together a bunch of disparate elements that did not blend well to create a book. There were a lot of really interesting ideas in Severance, but they didn't make any sense together, and they weren't anchored to a strong enough character to feel impactful. My main feeling while reading this book was frustration, because I kept hoping for a more interesting story which never emerged. I do think that the writing was overall good, and that the premise was interesting, but I really would not recommend this one.