I'm a little late with my March wrap-up since I've been dealing with the flu all week, but we're finally here! March was sort of an OK reading month for me; I read a bunch of 4-star reads but no 5-star reads and no new favorites. Here are my stats:
Total books read: 9
Audiobooks: 3
ebooks: 1
2019 releases: 5
ARCs: 1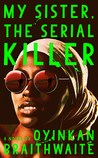 Call Them by Their True Names by Rebecca Solnit (4 stars) – This was my third Solnit book, and although it was good, it was my least favorite of the three (the other two being Men Explain Things to Me and The Mother of All Questions, both of which I gave 5 stars to). This collection focuses on how language can be utilized to either elucidate or hide the true meaning of actions and events, and it covers a wide range of contemporary political issues, from the removal of Confederate monuments to police brutality to the general truth-obscuring tendencies of the Trump administration. Unfortunately, I did find the collection to be somewhat uneven; while some of the essays were fascinating, detailed, and focused, others were far too broad and discussed issues in terms too general for me to find helpful. I'd still recommend this book and absolutely Solnit as a writer, but this collection overall fell short of my expectations, which may have been unfairly high.
Never-Contented Things by Sarah Porter (4 stars) – I was lucky enough to be able to read an eARC of this book courtesy of NetGalley, and I ended up finding it disturbingly entrancing. You can read my full review here.
Daisy Jones & the Six by Taylor Jenkins Reid (4 stars) – I'm often wary of the hype surrounding new releases (I've been burned before!) but when I heard that the audiobook of Daisy Jones & the Six was done with a full cast and that the story was told in an unconventional interview format, I was in. I've always struggled to listen to audiobooks; I have a hard time processing books this way in a lot of cases, so I'm always trying to find books that are more like people telling me stories, because that's the way I've found it best to listen. And it worked. Seriously, take it from an audiobook struggler–this is a fantastic production. I felt like I really got to know the characters better because their voices fit with them so well (particularly Daisy), and it was a great way to absorb a book that's all about the fact that there are many sides to every story. Audiobook aside, this is also just a really great book. I don't have a ton of music knowledge, and I'm not particularly familiar with the '70s (two reasons I initially thought I wouldn't be interested in this book), but neither of those things affected my enjoyment of the story at all. It's a book about how flawed people can come together to create amazing art, and I think that's something we can all find fascinating.
My Sister, the Serial Killer by Oyinkan Braithwaite (4 stars) – Genre-wise, this book sits somewhere between literary fiction and mystery/thriller, and it's one that I pretty much devoured. My Sister, the Serial Killer is a very quick novel that easily sucks you in and forces you to care about two sisters, each with quite a few issues, and the fact that one can't seem to stop killing her boyfriends. I recommend the audiobook, which is how I consumed this novel, although I think it would be addicting in any format.
The Gilded Wolves by Roshani Chokshi (4 stars) – If, like me, you enjoy books featuring a band of misfits teaming up for a secret adventure, you'll probably enjoy The Gilded Wolves by Roshani Chokshi. This YA fantasy set in a magic-infused 1889 Paris follows six teens: Severin, who's out to reclaim his birthright as the head of one of Paris's ruling magical families; Laila, whose pastry chef skills are matched only by her dancing abilities; Tristan, Severin's younger brother with a penchant for plant magic and a pet tarantula; Enrique, a brilliant historian; Zofia, a neurodiverse engineer; and Hypnos, the patriarch of a magical House none of them are sure they can trust. Together, they band together to plot a heist, take back what's theirs, and maybe save the world in the process. While I did find the plot disjointed at times and the mythology was a bit confusing, I overall very much enjoyed the read and will definitely be looking to pick up the sequel. Great for fans of Six of Crows, although much less violent.
On the Come Up by Angie Thomas (4 stars) – I was really lucky to be able to attend an event last year where Angie Thomas spoke at our local museum; she's one of the best public speakers I've ever seen, and her accomplishments are especially impressive considering how young she is. Along with pretty much every other YA reader, I loved The Hate U Give, and was interested to see what her next book would bring. I may have actually liked On the Come Up even more than The Hate U Give; protagonist Bri is captivating and relatable, and we get to see her try to realize her dreams while also dealing with the reality of her family's financial struggles. I both read the physical book and listened to the audio version, which is fantastically done by my favorite audio narrator, Bahni Turpin, and would definitely recommend it to adult and YA readers alike.
Nightchaser by Amanda Bouchet (3.5 stars) – I think this was my first time reading a science fiction romance, and I found that I quite enjoyed it as someone who enjoys both of those genres. I tried Amanda Bouchet's fantasy romance series last year and really appreciated her worldbuilding and female main character, but stopped after the second book as I really wasn't a fan of the male lead, but she's been an author I've been wanting to try again and I'm glad that I did. Nightchaser follows spaceship pilot Tess, a fugitive with a mysterious past who's on the wrong side of the law for trying to help the rebels against the notorious Dark Watch, mainly by providing food and medical supplies to orphans. After a particularly daring endeavor she runs into Shade, a self-described space rogue who she quickly develops a connection with. The two of them, together with Tess's ragtag crew, find themselves on an adventure and  a mission that could have ramifications larger than they'd dreamed of. It was a fun, fast-paced read with plenty of action alongside the flirtation, and although the plot was quite clumsy in places, I do plan to continue with the rest of the series to see what happens next.
Find Me by Laura Van den Berg (3 stars) – I went into this book fully aware that it has a very low Goodreads rating (one of the lowest of any books on my Goodreads shelves), but since I've tended to disagree with books' average Goodreads ratings in the past and tend to fairly often have unpopular bookish opinions, I didn't want to let this dissuade me from picking it up. Unfortunately, I ended up finding this book ultimately very disappointing. I did settle on three stars, since I felt that certain aspects of this book did have a lot of merit, but I also found a lot of things frustrating.
Find Me follows Joy, a 19-year-old living outside of Boston, working the night shift at a Stop-and-Shop, and drinking cough syrup to help herself cope with a traumatic past. When an illness causing memory loss and eventual death sweeps the U.S., Joy demonstrates immunity and is offered a place at a research hospital in Kansas attempting to find a cure. The first half of the novel follows Joy falling into the rhythms of the hospital and distancing herself from her former life and her past, while the second half follows Joy's search for her mother, who abandoned her at birth, in a meandering road trip across a country still suffering from the shock and devastation of the epidemic.
Here's my main issue with the book: it just didn't ever seem to fit together. The book contained a lot of really interesting ideas that I thought could have been explored very well as short stories or even as spinoffs into independent novels, such as the epidemic itself and Joy's time in the Hospital (which I didn't feel made sense as being only half of her story), Joy's experiences in the foster care system, which include her childhood best friend, who is scarred from a childhood accident and always wears a Halloween mask, and a really strange episode during the road trip portion of the story that takes place in a house occupied by a girl with angel wings and a man attempting to perform experiments to find his own cure for the epidemic. Any of these ideas could have been a great independent story if explored enough, but instead it was a struggle for them to connect into a larger narrative in which everything eventually felt anticlimactic. I wanted to care about the epidemic, about the state of the country, about Joy and her childhood best friend, but about halfway through the novel, there was a shift in how the story was being told that made me unsure whether the author was attempting magical realism (which I normally love, but didn't really seem to fit in this context) or a more weird fiction element. There were too many strange coincidences and too-convenient plot elements for it to be realistic speculative fiction, which is fine, but I'm just not sure what the author was going for. I just wanted the story to commit to something, whether it was a plot point or a storytelling mode, but it never did, and so I left the book feeling underwhelmed.
Jane Doe by Victoria Helen Stone (2.5 stars) – I'm not the biggest mystery/thriller reader, but once in awhile I get in a thriller mood and pick one up. There have definitely been thrillers I've really enjoyed over the years; unfortunately, Jane Doe was only okay. I appreciated the discussion surrounding the main character being a sociopath, and I found that aspect of the book very interesting, but the actual plot really didn't grab me in any way. The reviews for this book are great, so I'm clearly in the minority here, but it just wasn't for me.
Have you read any of these, or are they on your radar? Let me know in the comments!