It's April! When did that happen?
April means it's actually (hopefully) spring, that we're only 2 months away from BookExpo and BookCon (which I seriously cannot wait for), that I consequently have 2 months left in the book buying ban I've placed myself on until that time, and that it's Camp NaNoWriMo, which is essentially a less structured version of National Novel Writing Month, which takes place in November. I've set my writing goal for the month at 25,000 words, or half of what the traditional NaNoWriMo goal is, but my actual game plan is to finish the first draft of the fantasy novel I've been working on for awhile so that I can start to edit it into something that makes even a little bit of coherent sense. If you guys are interested in NaNoWriMo or what I'm working on, let me know in the comments, and I can try to post about it more.
Since I'm having a writing-centric month, I don't want to be stressed about choosing books to read or whether or not I'll enjoy them, so I've tried to make a realistically small TBR with a few books I feel fairly confident I'm going to like.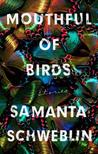 Samanta Scheweblin and Catherynne M. Valente have both given me 5-star reads in the past, Valente in particular during 2 previous NaNoWriMos, and I have a good feeling about The Pisces. There's also going to be another round of the Tome Topple readathon taking place this month, where the goal is to read books with 500+ pages, and it's also Dewey's 24-hour readathon this week, but as I'm not yet sure what I'll be reading for those I'm not including any readathon books on my TBR.
And these are the NetGalley eARCs that I would like to get to in April, especially because several of them are coming out this month. I don't know how many ebooks I can realistically devour in a month where I'm trying to write as much as possible, so we'll see. I'm currently in the middle of the first one, Red, White, and Royal Blue by Casey McQuiston, which is really funny and adorable so far.
Happy reading!