Here's the thing about one year ending and the new year beginning: I tend to get caught up in all of the year-end bookishness (lists of favorites, yearly wrap-ups, etc) that sometimes the next year's releases fall by the wayside and I miss hearing about some of the wonderful new books that will be coming out. But not this year! I'm trying to stay more on top of new releases so that I can focus on picking up books I'm really excited about in 2019 (while still prioritizing reading my physical TBR and backlist a good percentage of the time). Also, the fact is that 2019 is shaping up to be an AWESOME year in terms of books, and I am very, very excited. So many of my favorite authors are coming out with new books this year, and I'm sure I'll soon be overwhelmed with all of the amazing new-to-me authors coming out with books as well.
I will say that this list probably has a lot of limitations: obviously it's skewed towards my personal reading tastes, and a lot of the books on here are sequels, because those are the releases I tend to hear about first. It also out of necessity focuses on new releases for the first half of 2019; I think I might post a follow-up preview for the second half of the year (maybe after BookCon! I just bought my ticket). But I hope that you can all find some intriguing books on here as well, or maybe check out some of these authors' backlists too.
So here, with no further ado, are my most anticipated book releases for the first half of 2019! They're listed in order of release date.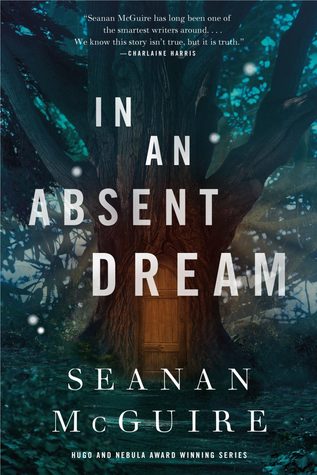 In An Absent Dream by Seanan McGuire (Wayward Children #4) (Release date 1/8/19) – I've been loving this YA novella series about children who enter fairytale worlds and then find themselves back in reality since the first book was released, and it's really not a series that can get old, considering the number of different worlds that McGuire has already laid down the foundations for. Apparently, this one is set in a goblin market. I pre-ordered this one, so it's probably going to be one of the first books I pick up in 2019.
The Wicked King by Holly Black (The Folk of the Air #2) (Release date 1/8/19) – I enjoyed The Cruel Prince much more than I thought I would (I gave it 3.5 stars), and I'm definitely interested to see how things play out in the fairy world in the sequel. I haven't pre-orderd this one, though, and I may wait awhile before picking it up, since it's not necessarily one of the new releases on this list that I feel like I have to get to RIGHT AWAY.
Mouthful of Birds: Stories by Samanta Schweblin (Release date 1/8/19) – I'm a huge fan of weird short story collections, and I absolutely loved Schweblin's Fever Dream, which was a short, intensely strange novel that was one of my favorite reads in 2017. Also, the cover of this book is ridiculously gorgeous and colorful.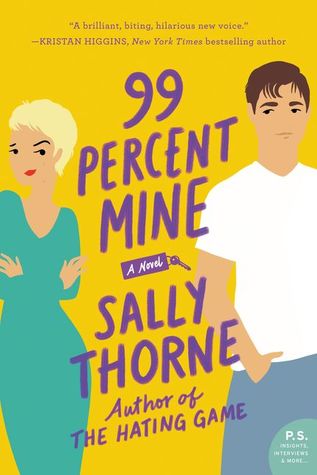 99 Percent Mine by Sally Thorne (Release date 1/19/19) – 2018 ended up being the year I discovered contemporary romance, and one of my favorites that was responsible for this reading trend was Thorne's The Hating Game. Because of that, I'm super excited to read more from her, and I've already pre-ordered this one. I believe it's about a woman who's in love with her twin brother's off-limits best friend, who she has to flip a house with. Sounds fun! The book, not the house-flipping.
The Dreamers by Karen Thompson Walker (Release date 1/15/19) – I'm going to go with the Goodreads blurb for this one, by the author of The Age of Miracles, which was a sort of beautiful and slow-moving pre-apocalypse type of novel I read last year: The Dreamers is "a mesmerizing novel about a college town transformed by a strange illness that locks victims in a perpetual sleep and triggers life-altering dreams…for fans of Emily St. John Mandel's Station Eleven and Kazuo Ishiguro's Never Let Me Go." Since the two books it's compared to are two of my favorites and I found The Age of Miracles very promising if not awesome, I'm pretty interested in this one.
The City in the Middle of the Night by Charlie Jane Anders (Release date 2/12/19) – I first heard of Charlie Jane Anders when she was the editor of io9, which used to be one of my favorite sources of SFF news and book recommendations; I've seen her speak on panels at BookCon, where she wowed me with her brilliance, and I now religiously listen to her podcast with Annalee Newitz, which is called Our Opinions Are Correct. I liked but didn't love her first novel, All the Birds in the Sky, and I really like the sound of this new one. Again, we're going to turn to Goodreads for some help on this one since I don't know too much about it:
"Set on a planet that has fully definitive, never-changing zones of day and night, with ensuing extreme climates of endless, frigid darkness and blinding, relentless light, humankind has somehow continued apace — though the perils outside the built cities are rife with danger as much as the streets below. But in a world where time means only what the ruling government proclaims, and the levels of light available are artificially imposed to great consequence, lost souls and disappeared bodies are shadow-bound and savage, and as common as grains of sand. And one such pariah, sacrificed to the night, but borne up by time and a mysterious bond with an enigmatic beast, will rise to take on the entire planet–before it can crumble beneath the weight of human existence."
Storm of Locusts by Rebecca Roanhorse (The Sixth World #2) (Release date 4/23/19) – I was lucky enough to get a free copy of Roanhorse's debut, Trail of Lightning, at BookCon, and fell in love with her post-apocalyptic world and strong female protagonist. I can't wait to hear more about where things are going in this unique, creative series set after climate change has decimated what was once the United States and strange powers and monsters out of Navajo mythology have awakened..
The Bride Test by Helen Hoang (The Kiss Quotient #2) (Release date 5/7/19) – Hoang's The Kiss Quotient was probably my favorite contemporary romance of 2018 due to its sweet, sexy romance and smart writing. I'm really looking forward to picking up more from Helen Hoang; The Bride Test follows Khai, a character we met in The Kiss Quotient who is autistic, and the potential bride his mother brings back for him from Vietnam who falls for him.
Middlegame by Seanan McGuire (Release date 5/7/19) – I've loved Seanan McGuire for a long time; I've enjoyed her October Daye, Indexing, and Wayward Children series, and am intrigued by this new, stellar-sounding standalone about twins with strange powers aspiring to become new gods. From Goodreads:
"Meet Roger. Skilled with words, languages come easily to him. He instinctively understands how the world works through the power of story. Meet Dodger, his twin. Numbers are her world, her obsession, her everything. All she understands, she does so through the power of math. Roger and Dodger aren't exactly human, though they don't realise it. They aren't exactly gods, either. Not entirely. Not yet. Meet Reed, skilled in the alchemical arts like his progenitor before him. Reed created Dodger and her brother. He's not their father. Not quite. But he has a plan: to raise the twins to the highest power, to ascend with them and claim their authority as his own. Godhood is attainable. Pray it isn't attained."
Kingsbane by Claire Legrand (Empirium #2) (Release date 5/21/19) – I was surprised by how much I enjoyed Legrand's Furyborn, which ended up being one of my favorite YA reads of the year, and am very excited to see where she takes the series. The Empirium series follows two young women, the Sun Queen and the Blood Queen, living a thousand years apart in a land torn apart by magic and angels, and Kingsbane is hopefully going to give us some intriguing answers into how the world came to be this way.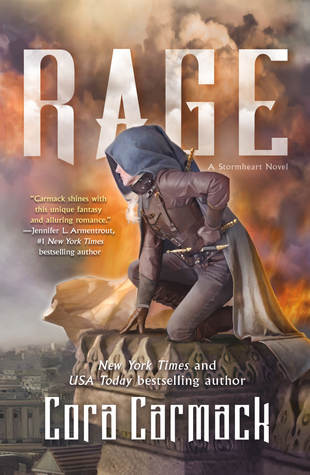 Rage by Cora Carmack (Stormheart #2) (Release date 6/11/19) – I picked up Roar, Carmack's first book in the stormheart trilogy, my first time at BookCon, because I love when books involve weather magic. I ended up really enjoying the YA fantasy world that Carmack created, and I'm looking forward to seeing Roar, a princess on the run, hopefully come into her own in the second book.
Other 2019 books that I'm excited about but that don't have firm release dates yet, and/or covers, and/or are happening too far in the future to go into detail yet: Sweep of the Blade by Ilona Andrews (Book 3.5 in her science fiction Innkeeper Chronicles series, focused on the main character's formerly missing sister and a space vampire, unknown release date); Sapphire Flames by Ilona Andrews (book 1 in a new trilogy following Catalina, the younger sister of Nevada from the Hidden Legacy series, release date 8/27/19); Ninth House by Leigh Bardugo (book 1 in a new series focused on Yale secret societies, release date 10/1/19); the second book in Ilona Andrews's Iron Covenant trilogy (no release date yet); Wayward Son by Rainbow Rowell (Simon Snow #2, no release date yet). Again, I'll go into these more in probably May/June with another Most Anticipated Reads List for the second half of 2019.
Are any of these books on your most anticipated lists as well? What books are you excited for that I missed? Let me know in the comments!