That's a wrap on October 2017!
Overall, October was a really great and reading-filled month. I participated in two readathons this month: Dewey's 24-hour readathon and Spookathon. Technically, I was also still participating in the R.i.P. XII reading challenge that encompasses both September and October as well, so there was a lot of themed reading as well as many books in a short period of time. Looking over what I read this month, I did give middling ratings to a bunch of books, but I did have a lot of fun with my reading overall and the books that were good, were very good. Unfortunately, I will be unhauling two of the books I read this month because I just really wasn't a fan and don't want them on my shelf. But overall, a good reading month! You can't expect to love everything you read.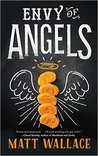 Number of books read: 10
#readmyowndamnbooks: 9 (!)
When did I acquire the books I read? June 2017 (Night Film), July 2017 (Final Girls), August 2017 (Fever Dream, Belzhar), September 2017 (Sourdough, Agents of Dreamland, The Red Tree), October 2017 (That Inevitable Victorian Thing, Last Call at the Nightshade Lounge)
Fever Dream by Samanta Schweblin (5 stars) – stellar short novel about a woman lying in a hospital being questioned by a young boy. During the course of the novel, you figure out why. This book is creepy, unique, and ambiguously magical. Highly recommend.
The Red Tree by Caitlin R. Kiernan (4 stars) – I really got into Caitlin R. Kiernan this month; I wish I'd read her earlier and am glad that she has a lot of backlist titles that I can get to. This book was about an author who moves into an isolated house in Rhode Island which she discovers has a mysterious past; instead of trying to write a book, which she's supposed to be doing, she obsesses in her journal about her ex-girlfriend and about the artist who comes to live at the house with her. She finds a manuscript from the house's previous tenant, who killed himself, and the book includes excerpts of this manuscript as well as her diary. It's atmospheric, creepy, and well-written; it was really the perfect October book.
Agents of Dreamland by Caitlin R. Kiernan (4 stars) – this was a Tor novella (I love Tor novellas!) about special agents investigating a cult mass suicide in the desert, that ends up being about a lot more than what it seems to be. I don't want to give away anything more about the story, but there's a lot packed into a very short book, and the writing is great.
That Inevitable Victorian Thing by E.K. Johnston (4 stars) – this was a very nice alternate-history SF book about a world in which the British Empire never fell but instead strengthened itself through diversity and apologizing for its past mistakes and colonization. It delves into some interesting concepts while remaining very grounded in its three main characters. I found it really enjoyable and not at all dark, so if  you're looking for a YA that fits those categories, I'd recommend this.
Night Film by Marisha Pessl (3.75 stars) – Night Film has a very cool premise–it's about the mystery surrounding a famously reclusive horror movie director, Stanislas Cordova, after his daughter commits suicide. Our main character, Scott McGrath, is an investigative reporter who lost most of his credibility after publicly going after Cordova due to suspicions of criminality and then getting slapped with a lawsuit, after which the story he's investigating completely falls apart. When Scott hears about Cordova's daughter's suicide, however, he's drawn back into the dark and scary world surrounding Cordova, whose movies are so disturbing that the last few have been banned from distribution. As Scott delves deeper into the world surrounding Cordova, things get stranger and stranger and the lines between fantasy and reality seem to blur.
I'd say that I really, really enjoyed the first 2/3 of this book. The writing is solid (although WAY too many italics are used), and the author uses an unconventional format where she sprinkles in documents, photos, and newspaper articles along with the book's regular text.
But.
I really did not like how the mystery wrapped up. Endings are crucial, and the ending of Night Film significantly reduced my rating. The writing in general seemed to get weaker towards the end as well.
So. I'd recommend this; I know that it's a widely loved book, but personally, I was disappointed with how it ended. After the intriguing premise and great setup, the lackluster conclusion was a huge letdown.
Sourdough by Robin Sloan (3 stars) – this book was cute and fun, but not impactful. Nothing at all bad happens, and I liked the focus on the culinary scene in San Francisco, but it wasn't a wow.
Last Call at the Nightshade Lounge by Paul Krueger (3 stars) – fun, fast-paced UF read about bartenders with magical powers from alcoholic drinks battling demons in Chicago.
Envy of Angels by Matt Wallace (2.75 stars) – I got this ebook free for subscribing to the Tor.com newsletter, and it's something that I had wanted to read for awhile. It's a fun, fast story about chefs who cook for the world's secret supernatural elements, and I liked it, but not enough to probably ever continue with the series.
Belzhar by Meg Wolitzer (2.5 stars) – I expected a completely different thing from this book than what it actually was. That's not the book's fault–I really didn't closely read the synopsis–but what the book actually was was not anything special. I did finish it rather than DNFing which I do with a lot of YA, but this isn't a book that I'd really recommend to anyone, and it made me sad, but not in a good, Fault in Our Stars-ish way.
Final Girls by Riley Sager (2 stars) – I mean, if you want to read a book that's supposedly a thriller but is actually really boring and barely anything happens until the very end, then this is for you. This book was coherently written and a few things were interesting (mostly the premise), but it really lacked dramatic tension and I didn't care about any of the characters. A disappointment.
Has anyone read any of these? What did you think? Let me know!