WWW Wednesday is a weekly meme hosted by Taking on a World of Words (https://samannelizabeth.wordpress.com/).
Right now, I'm in the middle of two quartets of books and really engrossed in my current audiobok (Men We Reaped). In other bookish news, I heard that Margaret Atwood's Alias Grace is being made into a miniseries! The more Atwood, the better, in my opinion; I haven't heard any news lately on the Maddaddam TV series, so I hope that's still in the works.
Currently reading:
So far, Men We Reaped is really incredible. Jesmyn Ward's writing is somehow both clear and layered at the same time, and she's so good at creating a sense of place. The story she tells is traumatic, and I'm amazed that she found the strength to tell it.
I'm over halfway done with The Dream Thieves (the second book in the Raven Cycle) and it's really good. I'm so glad that I started this series; it's been awhile since I found a good YA series that I can really get sucked into. The characters in this series are what keeps me  hooked (although the plot is definitely weirdly good as well) and I think Ronan might be my favorite. Although Blue is a great protagonist, and it's pretty impossible not to love Gansey.
I've stalled a bit on Those Who Leave and Those Who Stay; it's not that it isn't great, but I'm having a little reading ADD and YA seems to be really working for my reading mood at the moment. I'd like to dive back in and finish it by the end of the month, but we'll see.
Recently finished:
The Raven Boys (4 stars) and The Cuckoo's Calling (3 stars).
What's next?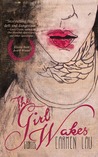 I've been wanting to get to The Girl Wakes by Carmen Lau for awhile–it's a book of short stories focused on dark feminist fairytale retellings, and it's pretty short, so I've been waiting until I get a stretch of time to read it in one sitting. I'll probably start the third book in the Raven Cycle (Blue Lily, Lily Blue) after I finish The Dream Thieves, and I already checked it out from the library in preparation. Also, with all of this series reading, I'd really like to pick up a good standalone next; I'm thinking maybe Lagoon and/or The Book Thief.
What is everyone reading right now???