In June, I finished two books that I've been halfway finished with for at least six months (The Cuckoo's Calling) and in the other case several years (Unaccustomed Earth); I started a great new series (The Raven Cycle); and I had yet another 5-star read (The Girl Wakes). It's only halfway through 2016, and I've already beaten the number of 5-star reads I had during all of last year 🙂 Here are my totals:
# of books read: 8
#readmyowndamn books: 4
20 Books of Summer total: 8/20
Audiobooks: 2
So here's what I read this month, ranked (as usual) in order of awesomeness: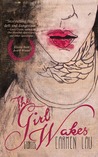 The Girl Wakes by Carmen Lau (5 stars): This incredible book of short stories is made up of dark feminist fairytale retellings. If that appeals to you, READ THIS BOOK. The premise alone made me know I would love this book, but it turned out to be even better than I expected. Longer review to come (I'm going to try actually posting some book review posts!) but to summarize, these short stories gave me goosebumps and were absolutely what I wanted to read.
Unaccustomed Earth by Jhumpa Lahiri (4.25 stars): I'm really loving short story collections lately. The characters and stories in this book feel so fully real, and Jhumpa Lahiri is an incredible writer. My favorite of the collection was "Only Goodness," about the relationship between a brother and sister and the brother's struggle with alcoholism; the last story in the book, however, the third in a series of connected stories, hit me hard.
A Court of Mist and Fury by Sarah J. Maas (4.25 stars): Indulgent romantic fantasy that I will most likely reread several times.
The Dream Thieves by Maggie Stiefvater (4 stars): the second book in the Raven Cycle was great, especially since it focused on my favorite character, Ronan. I love that the plot just keeps getting weirder, but the lovable characters are what really keeps me interested.
The Raven Boys by Maggie Stiefvater (4 stars): If you haven't checked out this YA series yet, I would encourage you to do so. I went into it knowing nothing about the plot, and I think that was a good way to go.
Citizen by Claudia Rankine (3 stars): I found some of the passages in this book of prose poems to be incredibly powerful, others less so. Overall I wish I'd read it in physical form rather than listening to it as an audiobook, although I had thought it was a good idea at the time. Too much rewinding and re-listening may have spoiled the effect for me, and I think I'd have rated it higher if I'd physically read it. No more poetry audiobooks for me.
The Cuckoo's Calling by Robert Galbraith (3 stars): I started listening to this audiobook in December and stopped about 2/3 of the way through because nothing was really happening. It took me until this month to get the desire to pick it back up so that I could finally find out who the murderer was. I feel like my expectations were too high because J.K. Rowling wrote this, and while it was a decent detective novel, I'm not interested enough to continue the series. Honestly, I wouldn't really recommend it. Read something else instead.
The Color of Magic by Terry Pratchett (2.5 stars): this one was a disappointment for me. I've read two other Discworld books (Mort and Small Gods) that I enjoyed, but this one unfortunately got really…boring. It started out well, with humor and an interesting setup, but then went rapidly downhill. I know that this is the first book in the series and isn't widely considered one of the best, but I was still disappointed–particularly with the book's treatment of female characters. I understand that Pratchett was satirizing a lot of aspects of fantasy literature, but it's still really unnecessary, and in my opinion a turnoff to a lot of female readers, to have literally every female character be naked in this book.
Overall, it was a great reading month! I'm already looking forward to my reading in July (my birthday month!) and I'm hoping to find some more great reads.
What did you all read in June? Let me know!