Total books finished: 7
#readmyowndamnbooks/#SmashYourStack:  4 (!)
Audiobooks: 2 (!)
Library books: 1
Read Harder Challenge tasks completed: 1
✓ 6. Read a biography (not memoir or autobiography)

Notorious RBG: The Life and Times of Ruth Bader Ginsburg by Irin Carmon
Severity of Ferrante Fever: high
So, I had decided to participate in the #SmashYourStack challenge for May and challenge myself to take down books from my physical TBR. I actually did OK on this challenge–I read hardly any of the books I thought I would, but I did manage to read 4 books that I actually own. (Although I totally cheated by buying the first 2 Ferrante books and then counting them for the challenge.) Overall, the quality of the books I read this month was fantastic–I added 2 books to my ongoing list of my top ten reads of 2016 (of course, it's all subject to change, since 2016 isn't even halfway done yet).
I also listened to 2 (and a half, since I started Citizen: An American Lyric this month too) audiobooks this month, which is crazy for me. Bout of Books gave me a lot of audiobook motivation, and I feel like I've really found my audiobook niche with nonfiction.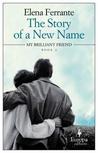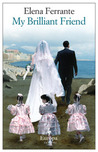 So here's what I read in May, ranked in order of awesomeness:
My Brilliant Friend by Elena Ferrante (5 stars) – If you haven't read this series yet, prepare to become obsessed. It opens with a mystery and the two main characters in their sixties, then flashes back to their fascinating and violent childhood in a poor neighborhood of Naples. The relationship between the two main characters is constantly fraught with emotion in different ways, and the world of 1950s Italy is alien and immersive. I highly, highly recommend this for anyone in a reading slump or looking for a new series to become addicted to–I honestly think anyone would enjoy these books, even if, like me, you typically steer clear of realistic fiction in favor of science fiction/fantasy.
Mr. Splitfoot by Samantha Hunt (4.5 stars) – this quickly became one of my favorite reads of 2016 so far. I loved the dual narrative structure and the consistent weirdness of this book. Highly recommended for anyone interested in weird fiction.
The Story of a New Name by Elena Ferrante (4.25 stars) – Although I liked My Brilliant Friend more, this was still incredibly well done–especially the whirlwind last 200 pages and the OH SHOOT ending. The middle had a long plot section that I wasn't a fan of, but once it transitioned out of that, it went back to amazingness. It's the perfect springboard into the third book, which I started this morning.
Death My Own Way by Michael Graziano (4 stars) – I picked this book up at the Buffalo Small Press book fair as part of my effort to read more books from independent publishers, and found that it was a perfect entrancing book to read in one sitting. It's a philosophical take on life, death, and art set in a single night in Central Park. Recommended for anyone looking for a short, thought-provoking read.
Roses and Rot by Kat Howard (3.5 stars) – This book was released last month and got a great review from Neil Gaiman, which is how I heard about it. It came in as a library hold and I only had a week to read it; I was nervous about finishing in time so I ended up reading it in 2 days! That kind of binge reading has been rare for me lately due to work, but it was a great feeling to just dive into a book and barely come up for air. This is a dark fairytale/fantasy about two sisters, a writer and a dancer, at an artist's retreat after escaping an abusive mother; it's about the love between siblings and the devotion to art.
I loved the setting, the concept, and overall liked the plot and characters, but I found the writing style to be way too simplistic for my taste. I needed a lot more detail and description, and although the characters were interesting, they could have been much more fully drawn. I also found the love interest very boring.
If you enjoy dark fairytale themes, then you'll probably enjoy this; for me, it was good, but just not amazing.
Not that Kind of Girl by Lena Dunham (3 stars) – I liked this audiobook a lot more than I expected to, although I found the quality to be very inconsistent. I like Lena Dunham's delivery, and found her very easy to listen to.
Notorious RBG by Irin Carmon and Shana Knizhnik (3 stars) – I loved hearing more about the amazing RBG, but didn't love the structure and writing style of this audiobook. The narrator was also not awesome.
What did everybody read in May???