So, July was an absolutely fabulous reading month for me; I think it was actually my best reading month of the year. The books, as a whole, that I read in July were really great; I had a lot of fun and got a ton of reading done during #24in48; and I did a pretty great job of reading my own damn books.
Number of books read: 14 (!!!!!)
Audiobooks: 4 (!!!!!)
#readmyowndamnbooks: 7 (!!!!!)
Book Riot Read Harder Challenge tasks completed: 4
✓ 2. Read a nonfiction book about science

The Immortal Life of Henrietta Lacks by Rebecca Skloot
✓ 16. Read the first book in a series by a person of color


Binti by Nnedi Okorafor
✓ 18. Read a book that was adapted into a movie, then watch the movie. Debate which is better.

The Jane Austen Book Club by Karen Joy Fowler
✓ 21. Read a book about politics, in your country or another (fiction or nonfiction)

Those Who Leave and Those Who Stay by Elena Ferrante
So, here's what I read this month, ranked (as usual) in order of awesomeness, with favorites first:

Milk and Honey by Rupi Kaur (4.5 stars)  – This is my preferred style of poetry to read – short poems in free verse with huge emotional impact. The middle two sections of this book absolutely blew me away. I read each poem at least 2-3 times because it's impossible not to savor her words. Will definitely be re-reading this.
Those Who Leave and Those Who Stay by Elena Ferrante (4 stars) – the third book of Ferrante's four Neapolitan novels deals with adult Lila and Elena, delving into their careers and politics and still maintaining their complex friendship. This may have been my least favorite of the quartet so far, but it was still very good; Ferrante's writing remains excellent and I only care more about these characters are the books continue, no matter what crazy choices they make.
Confessions by Kanae Minato (4 stars) – this was a psychological thriller where the twists just kept on coming. The premise is that of a middle-school teacher confronting her class about the death of her daughter and accusing two of them of her murder; it only gets more intense from there. I read most of this in this sort of deep trance and literally could not stop reading. Definitely recommend this for fans of well-written, intriguing dark books.
Men We Reaped by Jesmyn Ward (4 stars) – it's hard to talk about this book. It's devastating and powerful, and it should absolutely be read by everyone. Jesmyn Ward is an incredible writer, and I admire her so much for being able to tell this story.
Binti by Nnedi Okorafor (4 stars) – this is a science fiction novella about Binti, a brilliant girl living in an isolated community on Earth who is selected to attend the most prestigious school in the universe. Going to school involves breaking with her cultural traditions, but she is determined to remain herself and honor her heritage on her trip. On the way, she faces an unexpected enemy. I thought the worldbuilding was fantastic, especially considering how short this was, and I LOVED Binti as a protagonist. I found out that there will be at least one sequel to this novella, which I'm very excited for.
Saga, Volume 6 by Brian K. Vaughn and Fiona Staples (4 stars) – the latest volume in this science fiction/fantasy mash-up graphic novel series about an unconventional family defying the odds to try and stay together was really good; there's only been one volume of Saga that I really didn't like. This was not it. It was sweet and exciting and exactly what I was looking for. Can't wait for Volume 7.
Second Star by Alyssa B. Sheinmel (3.5 stars) – this was Peter Pan, if the characters in Peter Pan were surfers living in Southern California. Essentially, straight-A student Wendy Darling is searching for her brothers who went missing and during her search meets and falls for both Pete and Jas (Captain Hook, although with a very odd name choice and two hands. This really bothered me. Why couldn't he have a hook??). I've mentioned before that YA is really hit or miss for me, but this totally worked. It's full of romance and drama and I enjoyed the entire thing.
Shrill by Lindy West (3.5 stars) – this memoir was somehow both very funny and very important and relevant. I wasn't familiar with Lindy West prior to picking up this audiobook; I'd definitely recommend it now that I have.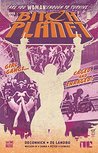 The Quick by Lauren Owen (3 stars) – I wanted to like this book more than I did. Vampires in a historical setting? A sister going to rescue her brother? Sounded great. The Quick is essentially about James, a young writer who moves to London and gets pulled into mysterious circumstances that he wasn't aware of or looking for; it's also about his older sister, Charlotte, who travels to London to look for James after she hasn't heard from him in awhile. It's hard to say much more than that without spoiling things. There were some things I really liked: I liked both romance storylines in the book (the romance is very light, though, it's definitely not a romance-oriented book). I also liked Charlotte's devotion to her brother, and I thought the writing itself was good overall. There were a lot of issues, for me, with the storytelling, though–the first 200 or so pages are from James's perspective, except for the first chapter, which is in Charlotte's, and after that it switches around sort of randomly between five or six character perspectives. A lot of this felt really unnecessary to me; we didn't need a lot of the extra information and perspectives, and it threw the pacing off quite a bit as well. Overall, I liked this, but definitely didn't love it. I wouldn't highly recommend it; if you really enjoy historical fiction and vampires, though, you may like it also.
The Immortal Life of Henrietta Lacks by Rebecca Skloot (3 stars) – Henrietta Lacks' story is an important one, and I was so intrigued and shocked by the journey of her cells. I thought all of the scientific information was really interesting; where the book didn't work for me was how much the author inserted herself into the story.
Gods Behaving Badly by Marie Phillips (3 stars) – this was a funny, quick read satirizing Greek mythology by bringing all of the Olympians to modern-day England and seeing how two ordinary people fare when brought into the mix. It's not at all deep or emotional, but if you're a Greek mythology fan, it's definitely enjoyable.
Bitch Planet by (3 stars) – I loved the feminist concept and creepy worldbuilding in this graphic novel, but for me there wasn't enough characterization and it really took away from the story.

Six Months, Three Days by Charlie Jane Anders (2.5 stars) – this is technically classified as a "novelette," although it seemed like a short story to me. I enjoyed Anders' novel All the Birds in the Sky and had her shorter work on my TBR for awhile; it ended up unfortunately being a disappointment. I feel like the characterization was really lacking, and although the concept was sort of interesting, it was a letdown overall.
The Jane Austen Book Club by Karen Joy Fowler (2 stars) – I LOVED Karen Joy Fowler's We Are All Completely Beside Ourselves, which was this really unique and emotionally gutting novel that was one of my favorite books of 2015. Unfortunately, that book and this one had absolutely nothing in common. I went in expecting a cute story of friendship and romance; The Jane Austen Book Club ended up being about 80% backstory with almost no plot taking place in the present. It was really frustrating to listen to because nothing ever happened; even the discussion of Jane Austen seemed really lacking to me.
So, what did you guys read in July? Let me know!