I had an absolutely wonderful reading month in July. I'm so glad about this, because July is my birthday month, and to celebrate I took myself on a vacation and was able to get some lovely beach reading done during that time. Beyond that, I gave myself a lot of room to mood-read in July, and because of that I ended up finding a lot of fun and enjoyable books. Here are my stats:
Number of books read: 13
#readmyowndamnbooks: 8
When did I buy the books I read? March 2017 (Borderline), April 2017 (Bloodchild), May 2017 (ACOWAR), June 2017 (Everything Belongs to the Future, Down Among the Sticks and Bones, A Million Junes), July 2017 (The Dream-Quest of Vellitt Boe, Phantom Pains)
Book Riot Read Harder Challenge tasks completed:
✓ 14. Read a book about war.

A Court of Wings and Ruin by Sarah J. Maas
✓ 15. Read a YA or middle grade novel by an author who identifies as LGBTQ+.

Down Among the Sticks and Bones by Seanan McGuire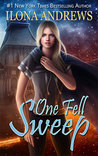 White Hot by Ilona Andrews (4 stars) – I think I liked this second book in the Hidden Legacy series even better than the first; honestly, I think I'd like just about anything that Ilona Andrews comes out with. This series is technically paranormal romance, as opposed to her Kate Daniels series which is more urban fantasy, but the world-building doesn't suffer at all. This series is fun, smart, and has characters you can't help but root for in this battle between magical dynasties in Houston.
One Fell Sweep by Ilona Andrews (4 stars) – Again, I think I liked this book even better than the previous ones in the series; this is technically the third in Andrews' Innkeeper Chronicles, which is about an intergalactic inn in small-town Texas that hosts members of different alien species and attempts to hide their existence from the rest of humankind.
A Court of Wings and Ruin by Sarah J. Maas (4.25 stars) – this series isn't perfect, but I've enjoyed the crap out of reading it. I'm so glad to hear that the author is planning on further books starring side characters!
Everything Belongs to the Future by Laurie Penny (4 stars) – This science fiction novella packs a lot into 120-ish pages. I picked this up after reading about it on Tor.com; Tor is really the only publisher that I actively follow and if they publish a book, it makes me instantly more interested. Without giving too much away, this novella focuses on a future where anti-aging medication has been developed that allows people to delay aging by decades, even a century or two–but costs are so prohibitive that only the ultra-rich and privileged are given access to the drug. Needless to say, this causes a lot of social upheaval, and the book focuses on a group of artists gradually becoming immersed in social activism against this new source of division in society. It's beautifully written and well-structured; I think it could also have been a great full-length novel, but then again, I tend to think that about any shorter work that I like. I'd recommend this to anyone who enjoys plausible, near-future science fiction focused on social issues.
Down Among the Sticks and Bones by Seanan McGuire (4 stars) – I love the concept that Seanan McGuire set up in Every Heart a Doorway so much, but it does mean that you essentially know all of the major plot points in this one before they happen. That being said, I still love her worldbuilding, and the world of the Moors that the twins enter into is fascinating. I did have issues with the pacing of this novella; I understand that the backstory had to be set up, but then it felt like we dwelt on their early childhood for too long and then glossed over a lot of what happened once they got settled in their new world, which was frustrating. Overall, this was a fast, absorbing read with memorable characters, and I'm looking forward to the next book in this series.
Borderline by Mishell Baker (4 stars) – This was a great, unique, fast-paced UF read with a memorable and well-developed main character. Millie has Borderline Personality Disorder and became a double amputee after a suicide attempt; she leaves the mental health facility she's staying at after she receives a job offer from the enigmatic Arcadia Project. A former filmmaker, Millie is easily able to adapt and confront the new world that the Project introduces to her–a world that encompasses not only humans but also the fey, who live among us and inspire creativity. The Arcadia Project exists to police the boundaries between the human and fey worlds and regulate travel between the two, as the fey can also be very dangerous to humans if they want to be. Millie quickly gets drawn into investigating the disappearance of a fey nobleman in L.A. while interacting with an intriguing cast of characters that I quickly got invested in. I'd say that this is UF that can work for people who aren't even UF fans; it did a great job of addressing mental illness and depicting Millie's struggles and persistence. It's also a really quick read; I'm not sure when the last time was that I tore through a 400-page novel in a few days.
Dear Ijeawele, or A Feminist Manifesto in Fifteen Suggestions by Chimamanda Ngozi Adichie (4 stars) – Like We Should All Be Feminists, this is a concise, effective, clear feminist message that everyone should be reading and internalizing.
A Million Junes by Emily Henry (4 stars) – this magical realism YA novel isn't my typical cup of tea, but I found it really atmospheric and enjoyable.
Eleanor & Park by Rainbow Rowell (2.5 stars) – This was probably my least favorite of Rowell's books, and I sort of expected that, which is why I left it until last to read. I'm not the biggest fan of contemporary romance unless it's really unique, and I just wasn't wowed by this book. I felt incredibly sympathetic toward Eleanor's situation, and that's the part of the book that really stuck with me, rather than the romance, which is what seems to get emphasized mainly in most reviews I've read.
The Dream-Quest of Vellitt Boe by Kij Johnson (4 stars) – So, I have to admit that I've never read anything by Lovecraft, so I'm sure that I missed all sorts of references and commentary in this novella. That being said, I thoroughly enjoyed reading it; I thought Vellitt was a great, mature main character, and I admired her determination throughout her quest. It was very well-written and I absolutely loved the ending.
Talking as Fast as I Can by Lauren Graham (3 stars) – this was a cute, quick memoir that I listened to on audio.
Bloodchild and Other Stories by Octavia Butler (5 stars) – this short story collection was absolutely incredible. Everything Butler writes absolutely blows me away, and this was no exception. In addition to short stories, Butler also provides commentary on her inspiration and meaning, and includes two essays, one of which made me cry through basically the whole thing.
Phantom Pains by Mishell Baker (4 stars) – this sequel to Borderline was just as fun, and I loved getting more insight into Caryl, who is one of my favorite characters.
I also purchased a bunch of books this month, of course, due to my lack of book-buying self-control: