As far as reading months go, I think June was the best I've had all year.
I don't know what it was! I think it was a combination of letting my mood reading tendencies take over and the fact that I went on a long road trip, which meant lots of audiobook listening. Basically, though, I read a whole bunch of really wonderful, enjoyable books, and only a few disappointing ones. (And yes, this wrap-up is super late–I've been out of town a lot and totally lost track of the fact that we're already well into July!)
Here are my stats:
Number of books read: 10
#readmyowndamnbooks: 7
Book Riot Read Harder Challenge tasks completed: 2
✓ 7. Read a book published between 1900 and 1950.

Herland by Charlotte Perkins Gilman
✓ 20. Read an LGBTQ+ romance novel (From Sarah MacLean, author of ten bestselling historical romance novels)

The Seafarer's Kiss by Julia Ember
When did I buy the books I read? March 2016 (North and South), February 2017 (Smoke Gets in Your Eyes), April 2017 (Marlena), May 2017 (Roar, The Seafarer's Kiss), June 2017 (Herland)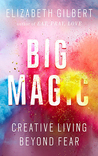 So, here's what I read in June! I didn't rank them from least to most awesome like usual; instead, here they are in the order I read them:
Big Magic by Elizabeth Gilbert (3 stars) – this was a very quick, inspirational audiobook listen. I've never read Eat, Pray, Love and am not interested in doing so, but I did really enjoy how passionate Gilbert is about integrating creativity into your life.
Roar by Cora Carmack (4 stars) – if you like romantic YA fantasy (meaning YA with a romantic emphasis, like Sarah J. Maas's A Court of Thorns and Roses series), you really need to read this book. It centers on Aurora (Roar), a princess who's never developed the storm-harnessing powers that those in her world depend on their rulers for. Her world is one ruled by powerful natural disasters, and those without the ability to harness these storms are forced to live and die at their mercy–or integrate themselves into one of the powerful kingdoms. Promised in an arranged marriage to an intimidating prince from another kingdom, Aurora instead runs away to learn about obtaining power from storms in a different way by joining a band of mercenary storm hunters. It's fast-paced and fun with interesting world-building (I happen to love weather-related magic systems) and a romance of course develops between Roar and one of the storm hunters.
Marlena by Julie Buntin (4 stars) – if you like books for adults with teenage narrators, or stories about female friendships, I'd definitely recommend this one. It's set in poverty-stricken Northern Michigan, with meth labs and a sinister air pervading every chapter, and partially told in flashbacks by a teenager and partially in present-day New York where she works for the library system. The book centers on the friend that our narrator makes when she and her family relocate to this desolate town, Marlena, an enigmatic girl forced to grow up too soon and who the narrators sees succumb more and more to the atmosphere around her. It's dark, evocative, and engrossing.
North and South by Elizabeth Gaskell (4 stars) – this is the book that officially broke me out of my long classics slump! I'd actually watched the BBC miniseries a few years ago and loved it, and had been meaning to read the book ever since. It's about Margaret, a strong-willed and intelligent but naive girl from the South of England whose family relocates to the manufacturing-centered North and is forced to confront her worldview and prejudices.
How to Be a Woman by Caitlin Moran (2.5 stars) – I laughed out loud several times while listening to this memoir, but I wasn't overly impressed by the writing. It's definitely funny and a quick audiobook listen, but it doesn't achieve a lot of depth.
The Seafarer's Kiss by Julia Ember (4 stars) – I'm one of those people who has loved the ocean and mermaids since childhood, so when I saw this mermaid-themed book at BookCon, I had to pick it up. The Seafarer's Kiss is a retelling of the Little Mermaid myth centered on Ersel, a mermaid aching to break free of her patriarchal, childbearing-focused iceberg kingdom. She's not quite sure how she can find the courage to leave her community and see the world until she meets Ragna, a shipwrecked badass Viking girl and ends up making a deal with Loki, god of lies, to help her. As we all know, this sort of thing never goes exactly as you'd expect, and all sorts of issues develop from there. I loved the way this book combined fairytale elements and Norse mythology, and I loved the romance between Ersel and Ragna.
Smoke Gets in Your Eyes by Caitlin Doughty (3 stars) – Unfortunately, this memoir ended up being somewhat of a disappointment for me. It's not that it wasn't good, but I have just read so many glowing reviews that I was expecting something amazing, while what it actually was was just interesting. It's the memoir of a young woman who starts working as an assistant in a crematorium/funeral home in her early twenties and begins to develop different ideas of how she feels death should be handled based on her experiences; it definitely gives a lot of behind-the-scenes insight into funeral homes and what happens to bodies after death, but I wasn't impressed by the writing or the structure of the book.
Herland by Charlotte Perkins Gilman (2 stars) – I gave this book a very low rating, but I'm still glad I read it, since it's an early feminist classic. Basically, it's about three men, all sexist but in different ways, who "discover" a civilization comprised entirely of women, and attempt to learn about and from this new world, with varying degrees of success. It's an interesting premise, but I just…didn't like it very much.
The Hate U Give by Angie Thomas (4 stars) – this is one of those books that I'm really grateful that the Bookternet has been promoting all over the place, because as someone who almost never reads YA contemporary, I don't know that I would have picked it up otherwise. It's powerful and yet accessible, and I'm so glad that it's being so widely read.
Hunger by Roxane Gay (5 stars, or more like 10 stars) – I have no idea how Roxane Gay had the courage and the ability to write this book and to write it the way she did. She is incredible. I cannot recommend this highly enough. It's essentially a memoir, but I guarantee it's more powerful and honest than any memoir you've ever read. Roxane Gay discusses her body and also how society views bodies like hers in a way that will absolutely gut you. Just read this book. Trust me.