It's Monday! What are you reading? is a weekly feature hosted by The Book Date.
I'm not going to lie, my reading this Monday is looking pretty darn awesome. As is my Monday in general, because even though it is Monday, I have a shorter week at work since I'm taking some time off to road trip to a friend's wedding this weekend.
So, what am I even reading?
This week, I'm reading two of the books I was most excited for in 2017: Hunger by Roxane Gay, which is already amazing and devastating and incisive, like everything Roxane Gay writes, and A Court of Wings and Ruin by Sarah J. Maas, which is the last book in my current favorite guilty pleasure series. I'm also listening to Smoke Gets In Your Eyes by Caitlin Doughty on audiobook; I prefer nonfiction on audio, and I've been really interested to check out this memoir from a young mortician. So far it's keeping my interest, but the real test is whether it'll work during my 7-8 hour drive this weekend. And then today I just started a new classic on my Serial Reader app, Herland by Charlotte Perkins Gilman; I'd previously started A Room With a View by E.M. Forster, but then I realized that I'd meant to only read books by women writers this month, so I switched.
I recently finished reading:
This weekend, I finished The Seafarer's Kiss by Julia Ember, which was one of the books that I got at BookCon. I picked this up at the booth for Interlude Press, which publishes LGBTQIA+-focused books, and everyone I spoke to at this booth was so wonderful and friendly. I was sold on picking up this book when one of the Interlude authors told me that it features Slytherin-esque characters.  It's a really lovely Norse mythology-inspired YA fairytale retelling of The Little Mermaid with a love story between a rebellious mermaid and a tough Viking Girl. I'd definitely recommend it to anyone who enjoys mermaids and fairy tale retellings.
I'm planning on reading next: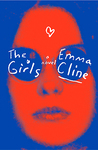 I needed to line up some attention-holding audiobooks for this weekend, as I'll be driving for about 15-16 hours total, so I currently have library holds on The Hate U Give by Angie Thomas and The Girls by Emma Cline. I've heard good things about both of these but haven't actually heard anything about the audio versions, so fingers crossed. I also have some bookish podcasts saved up to listen to if I need a break from audiobooking!