So that's a wrap for Bout of Books! It's always fun to have a readathon going to help inspire you to read more than you normally would. I definitely wouldn't say I got a crazy amount of reading done this week, but I think I did a decent job and most importantly have (for the most part) really enjoyed the books I chose.
On Saturday, I had a very productive readathon day. I did have to work, but I listened to the audiobook of Trainwreck: The Women We Love to Hate, Mock, and Fear..and Why by Sady Doyle on my commute and also while running a bunch of errands afterwards, so my day was doubly productive. When I got home, I finished reading The Beauty by Aliya Whiteley, which turned out to be very good and even weirder than I expected it to be (which is a good thing in my book). It also had more plot twists than I anticipated, so I couldn't have stopped reading it even if I'd wanted to. I meant to pick up another print book after that, but I started getting some things done around my apartment while listening to Trainwreck and couldn't stop; it's very short as far as audiobooks go, and the subject matter is super absorbing. I actually finished it late Saturday night and would highly recommend it to anyone looking for a feminist nonfiction read.
Sunday was Mother's Day, so I spent most of the day with my family and didn't get quite as much reading done. I did start a new audiobook, Big Magic: Creative Living Beyond Fear by Elizabeth Gilbert, but only got a little bit into it. I also read a little more of Windwitch by Susan Dennard, which is slower-paced than I had expected.
Here are my stats for the readathon as a whole:
Total books read: 3
Total pages read/audiobook time: 432 pages and 464 minutes of audio
Books started, but not finished: 3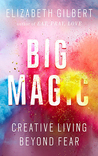 And here are my stats for the last two days of the readathon:
Day 6
Pages read: 237 minutes of Trainwreck, 74 pages of The Beauty
Books started: None
Books finished: The Beauty, Trainwreck
Day 7
Pages read: 12 minutes of Big Magic, 37 pages of Windwitch
Books started: Big Magic
Books finished: None
How did Bout of Books turn out for you guys? Let me know!