October was an awesome reading month for me. The last few months haven't been great (I didn't read good books in August, and in September I read good books but very few of them), so I was really relieved to have a month of great books and lots of reading. I participated in the Dewey's 24-Hour Readathon, which was wonderful; read a total of 3 books with a significant focus on artificial intelligence, which was a total coincidence; and participated in a Halloween-themed reading challenge for which I read 4 books. I also read an absolutely enchanting 5-star book and discovered a few new authors that I'll definitely be reading more from in the future.
Here are my stats:
Total books read: 13 (!)
#readmyowndamnbooks: 6
Audiobooks: 4
Book Riot Read Harder challenge tasks completed: 1
✓ 20. Read a book about religion (fiction or nonfiction)

The Daylight Gate by Jeanette Winterson
And here's what I read, ranked in order of awesomeness:
The Long Way to a Small, Angry Planet by Becky Chambers (5 stars) – this is the perfect example of a book that lives up to all of its hype and yet still manages to surprise you. It's a shockingly positive, daringly upbeat science fiction novel focused on character development and the interactions between seemingly disparate societies, and I LOVED IT. I want to pick up the sequel very soon.
The Vegetarian by Han Kang (4 stars) – I thought the writing was really beautiful, and this was dark and immersive. The multiple perspectives worked well for me, as each one takes you deeper into the story. I really liked it but didn't love it.
The Beautiful Bureaucrat by Helen Phillips (4 stars) – this was a short, unsettling novel about a woman who takes a dull office job entering data into a database and finds her reality slowly start to unravel. The weirdness was great for October, and it's one that I'd recommend.
The Daylight Gate by Jeanette Winterson (4 stars) – this was a disturbing, starkly written historical fiction/fantasy about the famous witch trials that took place in Lancashire in the 1600s. It wasn't a subject that I had prior knowledge of, but Winterson includes a brief historical note before and after the story that helps to orient people like me. The book's main character is Alice Nutter, a beautiful, mysterious, independent bisexual woman living in an era completely pervaded by misogyny and religious persecution. As a witch hunt begins to take place in her present, we begin to learn about her fascinating backstory. It's a really brilliant and impactful book, and I'd highly recommend it–but I'd add the caveat that there is a lot of sexual violence and torture throughout the book, so if that's something you typically have a hard time with, steer clear.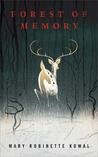 Illuminae by Jay Kristoff and Amie Kaufman (4 stars) – I read this for Dewey's after procrastinating it for awhile; it's a book that's just so popular all over Bookstagram and the blogs that I got tired of seeing its cover. Turns out that I was wrong and everybody else was right, because I thouroughly enjoyed it.
Fun Home by Alison Bechdel (4 stars) – this graphic memoir, which focuses on Bechdel's relationship with her father and learning about her sexuality, was insightful, emotional, and I'd highly recommend it.
Forest of Memory by Mary Robinette Kowal (3.75 stars) – this was a short novella set in the near future where everyone has a personal AI that sort of acts like a google inside their heads was a perfect pick for Dewey's. The story starts when our main character, a dealer in antiques (which are basically modern-day objects, although some are older) is abducted by a man in the woods and finds herself without an AI and completely out of contact with the world. There is also something mysterious going on with deer. I don't want to say more because it's quite short, but you should pick it up.
Pretty Deadly, Vol 1 by Kelly Sue DeConnick and Emma Rios (2 stars) – Sorry, Pretty Deadly, but I am just not on board. For me, this graphic novel was too bloody and never took the time to establish any characterization. The mythology could have been interesting, but just wasn't in the way the story was told. I won't be picking up the next volume.
Audiobooks! I'm not going to lie, I crushed it with audiobooks this month. Four audiobooks is a lot for me, and the great thing was that I was really absorbed in most of these. I decided to rank these separately, for some reason.
In a Dark, Dark Wood by Ruth Ware (4 stars) – this was a really pleasant surprise for me. I don't read a lot of mystery/thriller books, but Ware does a fantastic job with characterization and I was immediately drawn in to the atmosphere of this story. Essentially, an introverted author is invited to the bachelorette weekend of an old childhood friend she hasn't spoken to in years, and things begin to get creepy from there. My favorite character was Nina, the bitingly sarcastic doctor friend of the book's main character.
The Geek Feminist Revolution by Kameron Hurley (3.5 stars) – this book of essays was interesting and insightful, but the audiobook narrator was TERRIBLE. I would absolutely recommend the book itself, but I'd really advise people to steer clear of the audio version–the narrator sort of overly-pronounces words and seems like she's trying to sound super proper, but she somehow still manages to mispronounce a lot of things. It's very odd; I kept going because the essays were so interesting, but I persisted in spite of the audio narrator.
Furiously Happy by Jenny Lawson (3.25 stars) – at turns entertaining and insightful, and a really good listen on audio.
Bird Box by Josh Malerman (2.5 stars)  – I really liked the science fiction/horror concept of this book, which was why I didn't give it a lower rating. The problem for me was characterization, and this is a big deal for me in books–if the characterization is flat, then it doesn't really matter how many twists and turns there are in the plot, it just isn't going to be a great book for me.
So that's what I read in October! How did everyone else's reading month go?