I'm extremely excited for May reading after an odd yet fun bookish April. This month my focus is going to be reading books from my physical TBR shelf for the #SmashYourStack challenge, and I'm really excited about my options. I'm also really looking forward to participating in Bout of Books from May 9-15; I had so much fun during the last challenge in January.
Here's my May #SmashYourStack TBR! Ranked in order of my excitement level, although I'm very psyched for all of them.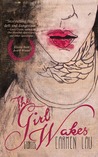 Mr. Splitfoot by Samantha Hunt – For real, this time. It's been on my TBR list for the past few months and I've yet to finish it, but that's for a very legitimate and odd reason: because I like it so much. Hear me out! Sometimes when I'm really loving a book I have an extremely hard time actually reading it, because I only want to read it when I'm in the right mood to fully appreciate it. I also have a hard time reading it because I don't want it to be over. But now I'm over halfway through Mr. Splitfoot, and I'm so intrigued that I absolutely have to know what happens very, very soon. It's seriously amazing so far.
A Court of Mist and Fury by Sarah J. Maas – I'M SO EXCITED. I was re-reading parts of A Court of Thorns and Roses the other day in preparation for this book, which comes out on Tuesday, and I seriously can't wait to start it. My goal is to finish Mr. Splitfoot before this one comes in the mail (I pre-ordered it and the release date is Tuesday, so I'm not sure when it will get here? Do stores try to get it to you by the release date or after?) so that I can devote my full attention to it once it comes out. I'm hoping that this book is more akin to the last part of ACOTAR, which was the more interesting part in my opinion.
The Girl Wakes by Carmen Lau – I'm really excited to read this book of dark feminist fairy-tale retellings, and it looks like the perfect length for Bout of Books. I picked it up at the Buffalo Small Press Book Fair last month and I've been anxious to dive in ever since. I mean, read this blurb and tell me this book doesn't sound awesome: "A beautifully vicious first collection of retrofitted fairy tales, with whip-smart swerves, darkly funny moments, and razor-sharp language. Like Angela Carter meets Let the Right One In with a dash of Lady Vengeance tossed in for good measure."
—Brian Evenson
City of Dark Magic by Magnus Flyte – this was a total impulse buy at one of the library used book sales I hit last month, and I feel like I'm going to be in the mood for a lighthearted fantasy option this month. Its blurb on Goodreads calls it a "rom-com paranormal suspense novel," which sounds like it could potentially really work for me. There are a couple of not-so-great reviews I've seen on GR, but sometimes you really need to ignore reviews and just read something for yourself.
Leo@fergusrules.com by Arne Tangherlini – another book I picked up at the Buffalo Small Press Book Fair, this book is described as "a post-modern tilt at Alice in Wonderland, a computer-age Huckleberry Finn, leo@fergusrules.com is above all the story of a young woman's search for the lost world of her ancestors in a society in which technology has replaced community."
Stone Mattress by Margaret Atwood – I've ranted before about my love for Margaret Atwood, and I'm so interested to see what her short fiction is like. I've heard that this collection has a lot of horror influences and dark themes, which I'm totally on board with.
The Good Girl by Mary Kubica – I hope I like this book, but I'm not getting my hopes up. It's supposed to be Gone Girl-esque, and I really enjoyed Gone Girl, but I'm not sure how I'll feel about something similar but not the same. I hated The Girl On the Train, for example. But it will be good to have a fast-paced thriller option for Bout of Books, so I'd like to try it.
Death My Own Way by Michael S. A. Graziano – Another BSPBF find, this one was described to me as being "extremely weird" but very good. Here's the blurb: "A man dying of cancer wanders naked into Central Park and embarks on a twisted, fetishistic, hilarious journey toward a deeper understanding of life. A story of vulnerability, brashness, and the universal need to find some comfort and philosophy before the journey ends." Sounds super interesting, and it's a very short read–perfect for Bout of Books!
Additionally, there are a few books not on my physical TBR shelf *gasp* that I may also read this month, depending on my reading moods and how I'm doing on my challenges (audio/library/ebooks):


Has anyone read any of these books? What did you think? And what is everyone reading in May? Feel free to link to your TBR posts 🙂