It's my favorite part of the month: the part where I make a massive TBR list that I then immediately start to deviate from. I ranked these in order of most likely to actually read this month to least likely.
There are a couple of factors that went into my TBR decisions this month: I need to bounce back from my most recent book I thought I'd love that was just okay (Trigger Warning by Neil Gaiman) and, more excitingly, I need to plan for Dewey's 24-hour readathon on April 23rd!!!
I participated in the most recent Dewey's readathon in October, and had an amazing time reading straight through Carry On by Rainbow Rowell in one day. I read a graphic novel too! It's a fun and interactive celebration of reading, and I'm pumped to participate again this month. Unfortunately, I have to work the morning of the Readathon, but am planning on audiobooking to and from work and then getting down to hardcore reading/blogging as soon as I get home. I'll be posting a more specific pre-Readathon game plan later in the month 🙂
So, here's what I'm looking to read during April:
Jackaby by William Ritter – I already started listening to this audiobook, and it's totally working for me. Supernatural Sherlock Homes in late 1800's New England, with a female protagonist I really like in the Watsonish role.



Marked in Flesh by Anne Bishop – this is on a 7-day library loan, so I actually need to read it really quickly. It's not that I can't read a book in a week, but this series is a slower type of read that I prefer to take my time with, so this might be tricky.
Nimona by Noelle Stevenson – I've been hearing from so many bloggers and reviewers that this is a must-read, and I'm excited to check it out.
The Yellow Wallpaper by Charlotte Perkins Gilman – technically a short story I have on e-book. So far I have read exactly zero classics in 2016, so I should get on this.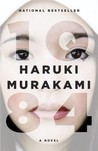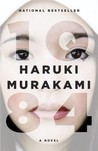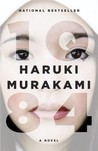 1Q84 by Haruki Murakami – This book sounds absolutely amazing. I definitely will be starting it this month, but it is very, very long, so I doubt I'll be able to finish it this month as well.



Through the Woods by Emily Carroll – another graphic novel, this one is supposed to be quite spooky. I read a really positive review on Goodreads from Patrick Rothfuss that made me check this out from the library.
Every Heart a Doorway by Seanan McGuire – I just requested this short novel from the library. It's a new release about children who return to the real world after getting lost in fantasy stories. It may be a good option for Dewey's since it's fairly short and has been getting amazing reviews on Goodreads.
Appetites by Caroline Knapp – This book has been sitting on my TBR pile mocking me since college.
Mr. Splitfoot by Samantha Hunt – I do really, really want to read this, but I'm not sure if I'll be able to fit it in this month. Never say never!
I'd love to hear what everyone is planning on reading this month! What's on your TBR lists? Anyone else participating in the Readathon?